Flip through the channels tonight and chances are you'll find a slate of reality TV shows packed with regular Joes and Janes, all trying to become rich and famous. And when a celebrity dies, sometimes it seems the ratings are even higher.
But when the most famous answer the final curtain call, that fame can sometimes turn to legend-- especially if there's a little scandal or intrigue surrounding their death.
Let's go behind the headlines and find out the final autopsy details behind some of the world's biggest-name celebrities. You may be surprised.
Date of Death: July 20, 1973
Age at Death: 32
Profession: Actor/ Director/ Writer/ Martial Artist
Fatal Details: Complaining of a headache, Lee was given an analgesic (painkiller), Equagesic, which contained both aspirin and a muscle relaxant. After a short nap, Lee did not turn up for dinner. Fellow producer Raymond Chow came to Lee's apartment, but he could not wake him up. A doctor was summoned, who spent 10 minutes attempting to revive Lee before sending him by ambulance to Queen Elizabeth Hospital. However, Lee was dead by the time he reached the hospital. There was no visible external injury; however, his brain had swollen considerably, from 1,400 to 1,575 grams (a 13 percent increase).
Bruce Lee's iconic status and untimely demise fed many theories about his death, including that he was murdered by a Triad society (Hong Kong gangsters) and that a curse was supposedly placed on him and his family. The curse theory was extended to his son, Brandon Lee. Also an actor, Brandon died, 20 years after his father, in a bizarre accident while filming The Crow at age 28. The film was released after his death and gained cult status, as had his father's last film.
Date of Death: April 5, 1994
Age at Death: 27
Profession: Singer/Songwriter
Fatal Details: Cobain's body was discovered at his Lake Washington home by an electrician who had arrived to install a security system. Apart from a minor amount of blood coming out of Cobain's ear, the electrician reported seeing no visible signs of trauma and initially believed that Cobain was asleep, until he saw the shotgun pointing at the rock star's chin. A suicide note was found that said, in part, "I haven't felt the excitement of listening to as well as creating music, along with really writing . . . for too many years now." A high concentration of heroin and traces of Valium were also found in his body. Cobain's body had been lying there for days; the coroner's report estimated that the singer had died April 5, 1994.
3
Bernie Mac (Birth name: Bernard McCullough)
Date of Death: August 9, 2008
Age at Death: 50
Profession: Actor/Comedian
Fatal Details: Mac died early in the morning of complications due to pneumonia, after having been hospitalized for several weeks at Northwestern Memorial Hospital, in Chicago. A few years before, Mac disclosed that he suffered from sarcoidosis, a rare autoimmune disease that causes inflammation in tissue, most often in the lungs. Just before his death, Mac had finished working on the film Soul Men with Samuel L. Jackson and singer-songwriter Isaac Hayes, the latter of whom died the following day of a stroke.
4
David Carradine (Birth name: John Arthur Carradine)
Date of Death: June 4, 2009
Age at Death: 62
Profession: Actor
Fatal Details: Carradine was found dead in his hotel room in Bangkok. A Thai forensic pathologist and director of the Central Institute of Forensic Science stated the incident met four of the criteria for accidental death involving autoerotic asphyxiation. Police Lt. Gen. Worapong Chewprecha, commander of the Metropolitan Police, remarked that the closed circuit television installed within the hotel supported the theory that no other persons were involved in Carradine's death.
In July 2009, it was reported that a private pathologist, after carrying out a second autopsy, also ruled out the possibility of suicide. However, he was still unable to determine whether Carradine's death was accidental or a homicide.
Date of Death: June 25, 2009
Age at Death: 62
Profession: Actress
Fatal Details: Fawcett was diagnosed with anal cancer in 2006. At the time, Fawcett got radiation and chemotherapy to treat her cancer, but in May 2007, Fawcett learned that her cancer was back and that it had spread to her liver as stage IV cancer. In the summer of 2008, Fawcett entered a clinical trial of an experimental drug in the United States, but those treatments did not prove successful and scans showed that her tumor was progressing. Fawcett also switched to other chemotherapy drugs, which made her hair fall out -- something that she had wanted to avoid in her earlier cancer treatments.
Date of Death: March 18, 2009
Age at Death: 45
Profession: Actress
Fatal Details: Richardson had fallen on a beginner's ski slope in an accident that had seemed innocuous at the time, even though she wasn't wearing a helmet. Ski instructors who were with her at the time said she had laughed off the fall and insisted she was fine before returning to her room. She showed no external sign of injury or bleeding. Two ski patrollers stayed with Richardson, but after an hour she began complaining of a headache and was taken to the Centre Hospitalier Laurentien, not far from the resort. She was later transferred to the intensive care unit at a hospital in Montreal and then flown to New York.
She died within a day of the injury. An autopsy conducted by the New York City Medical Examiners Office revealed the cause of death was an "epidural hematoma due to blunt impact to the head," and her death was ruled an accident.
Date of Death: May 28, 1998
Age at Death: 49
Profession: Actor/Comedian
Fatal Details: Hartman was a victim of murder-suicide. He was murdered by his wife, Brynn, in their California home. While Phil slept, Brynn came into the bedroom with a revolver that reportedly Phil had given to her as a present, aimed it at Phil and shot him in the head, fatally wounding him. She drove to the home of Ron Douglas, a friend of hers, and said "I shot Phil," after which she passed out. Douglas did not believe her initially, but he found the gun in her handbag and understood. Brynn woke back up and drove the two back to Phil's house, where Douglas saw Phil's lifeless body. He called paramedics and the police, but when the police arrived Brynn fled to the bedroom where Phil was. Brynn pulled out a second revolver and committed suicide by shooting herself in the head.
Date of Death: December 26, 1985
Age at Death: 53
Profession: American zoologist and author of "Gorillas in the Mist"
Fatal Details: Fossey was murdered in the bedroom of her cabin on Dec. 26, 1985. Her skull had been split by a panga (machete), a tool widely used by poachers, which she had confiscated years earlier and hung as a decoration on the wall of her living room adjacent to her bedroom.
Fossey was found dead beside her bed and 2 meters away from the hole in the cabin that was cut on the day of her murder. Despite the violent nature of the wound, there was relatively little blood in her bedroom, leading some to believe that she was killed before the head wound was inflicted, as head wounds, even superficial ones, usually bleed profusely.
Date of Death: September 14, 2009
Age at Death: 57
Profession: Actor, dancer and singer-songwriter
Fatal Details: In January 2008, Swayze was diagnosed with stage IV pancreatic cancer. On Jan. 9, 2009, the beloved actor was hospitalized with pneumonia. The pneumonia was said to be a complication of chemotherapy treatments for Swayze's cancer. On April 19, 2009, doctors informed Swayze that the cancer had again metastasized to his liver. Swayze stated that his chain smoking probably "had something to do with" the development of his disease. Swayze died 20 months after being diagnosed. He was cremated and his ashes were scattered over his New Mexico ranch.
Date of Death: September 4, 2006
Age at Death: 44
Profession: Environmentalist and star of the hit TV show The Crocodile Hunter
Fatal Details: Irwin died in 2006 after being fatally pierced in the chest by a stingray barb while filming in Australia's Great Barrier Reef. It is thought, in the absence of a coroner's report, that a combination of the toxins and the puncture wound from the spine caused Irwin to die of cardiac arrest, with most damage being inflicted by tears to arteries or other main blood vessels.
His wife, Terri Irwin, recently reported that Steve had an ongoing premonition that he would die before he reached age 45.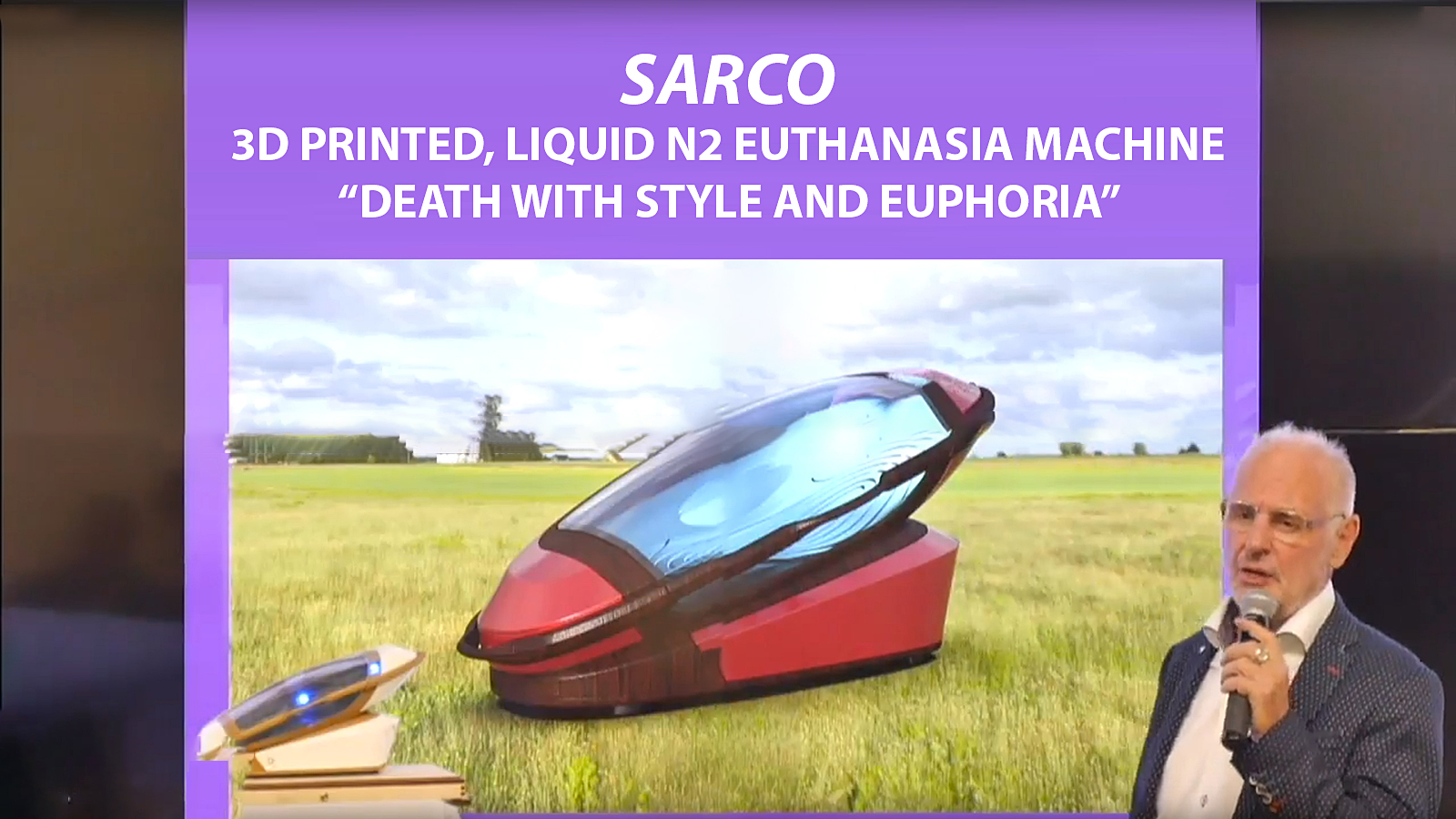 Up Next
Imagine the suicide booth on 'Futurama,' only real. Learn more about the Sarco suicide pod at HowStuffWorks.
---
Related Articles