How to Choose Toddler Equipment
As your child begins to walk you will need a whole new set of equipment to help ensure his happiness and safety.



Infant Seats



Infant seats are either rigid, molded plastic shells on plastic stands or cloth, hammock-like seats sewn onto round frames. They hold the baby in a semi-upright position that is convenient for feeding and interaction, and they're easy to carry because of the rigid support they provide. Some infant seats are even designed to fit into the carts at the supermarket. They are good for infants up to five or six months of age.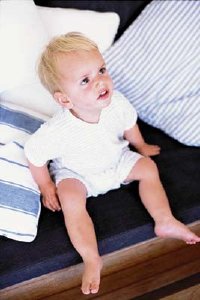 Until they are big enough, infants will
need their own seat to sit at the
dinner table.
As far as safety goes, about 1,000 hospital emergency department visits take place every year to treat injuries, mostly to the head, that occur when these seats slip off high surfaces, such as counters and tables. Occasionally, the seat supports give way, or the baby's movement causes the seat to fall. Many of these injuries could have been prevented if the baby had been properly fastened into the seat.

It's never a good idea to put an infant seat on a high surface; if you do, make sure the surface isn't slick, as on the top of a washing machine. If you're going to turn your back, even for a second, put the infant seat down on the floor. Avoid buying infant seats that come with rockers or slender wire frames in the rear-they are potentially unstable. Also, do not use the stand of the carrier as a handle. Carry the infant seat from below. Infant seats, unless specified, cannot double as car restraints.

Look for an infant seat that has a nonskid bottom, so it won't slip off any surface. For greater stability, the base should be wider than the seat, and the back should have some sort of supporting device to prevent it from collapsing. It should have an adequate crotch and body belt with latches that won't slip. A seat that has several adjustable positions is most useful. Look for one that's easy to clean-made of vinyl or other water-resistant material-so you can easily remove spills and crumbs.



Jumpers and Swings



A jumper is a fabric or plastic seat suspended from a metal clamp on a doorjamb by means of a combination of chains, springs, or rubber and fabric strips. The baby bounces from it, pushing off from the floor. Some babies don't like them; others do, and they enjoy them until they can walk.

The problem with jumpers is the clamp can release or the straps can fray and break, causing the baby to plunge to the floor or strike the door frame. Some of the seats put too much pressure on the baby's inner thigh, causing red marks or circulation problems. They're hard to set up, too, and prolonged use has produced vertigo, similar to seasickness, in babies. There's also a danger of whiplash. We don't recommend them.

Swings are a useful luxury item, especially to soothe a colicky or fussy baby. Swings usually have a small seat, sometimes a mesh-sided bed, suspended from a four-legged metal stand. Either a wind-up handle or a large plastic knob that tightens an interior spring mechanism makes it swing. Some are battery-operated. The rhythmic motion soothes the baby-and the parents. One of the biggest drawbacks to swings is they don't get used for very long, and they take up lots of room, which can be difficult in an apartment.

Use swings with proper belting and supervision. An unbelted baby can fall forward into the padded front bar and suffocate. Do not use swings with babies older than six months, who may try to climb out or grab the sides, potentially causing the entire swing to fall. There have been a few reports of springs shattering, resulting in assembly parts in the top bar flying out, and of support legs collapsing. Parents have also reported bumping the baby's head in the process of getting the baby out of the seat.

Look for a swing that has the longest possible running time for each winding. It can be frustrating to get your baby lulled to sleep and have the swing stop, especially since many of the winding devices can startle the baby-so also look for one with a quiet wind-up mechanism. There should be padding on the front bar of the seat, and leg holes no higher than seat level, with smooth edging. Make sure the frame is wide and stable, preferably with locking side bars. Don't bother with an awning; you'll seldom use a swing outside, so the awning serves no purpose.



Walkers



The American Academy of Pediatrics does not recommend the purchase of a walker. First, walkers don't help babies walk any sooner. In fact, the leg actions required for a baby to use a walker have nothing to do with walking. Keeping a baby in a walker may actually impede the natural transition a baby makes from crawling to walking.

But even more important than this, walkers can be downright dangerous. Each year, there are thousands of walker-related emergency department visits, many a result of walkers tipping over or falling down stairs. In the past, many injuries resulted from fingers getting caught in X-frames that collapsed. New regulations in 1972 required that all parts that could crush, lacerate, or sever fingers be covered, and that walkers be protected against accidental collapse.

Walkers give parents a false sense that their babies are safe and secure. But, in fact, the major problem with walkers is that the baby's mobility is increased

and parents can't always keep a constant eye on the baby. The baby can very quickly tip the walker over in the process of moving it over rugs, cords, or other obstacles. If you turn your back, your baby could head for the stairs.

The high risk of injury and the short time they're even appropriate make walkers an unwise investment.



Safety Gates



If you use a gate, the U.S. Consumer Product Safety Commission recommends gates made of climb-resistant mesh in a small diamond pattern and with a straight top edge. Attach these gates firmly to the wall with screws, not rubber gaskets. If you use an accordion gate, use one that does not have to be stretched much; select the longest gate that fits the doorway in the closed position (so baby can't climb on the openings), and install it with screws.

A homemade gate of plywood with no crossbars also works, as does a locking screen or wood door. Install all gates with minimal space between the gate and the floor so the baby can't get trapped trying to crawl under it.

If you use a pressure gate, which we don't recommend, make sure the pressure bar side of the gate is away from the child, who could use it to climb on.

The best alternative to gates is to teach your baby to manage stairs as soon as she can crawl and have her practice with supervision. Install railings on the stairway at a height accessible to children who are 18 months to 5 years old.

Aside for all the safety equipment we've mentioned, the most important thing you should secure is a first aid kit. We'll show the pieces you should assemble in the next section.


This information is solely for informational purposes. IT IS NOT INTENDED TO PROVIDE MEDICAL ADVICE. Neither the Editors of Consumer Guide (R), Publications International, Ltd., the author nor publisher take responsibility for any possible consequences from any treatment, procedure, exercise, dietary modification, action or application of medication which results from reading or following the information contained in this information. The publication of this information does not constitute the practice of medicine, and this information does not replace the advice of your physician or other health care provider. Before undertaking any course of treatment, the reader must seek the advice of their physician or other health care provider.