Erectile dysfunction -- commonly known as impotence -- affects 15 to 30 million American men and more than 140 million men worldwide. It is estimated that in the past only 10 percent of men affected by erectile dysfunction (ED) sought treatment; the vast majority of them simply lived with it, keeping silent out of fear, embarrassment, and the mistaken belief that nothing much could be done to help. Today, however, approximately 60 percent of affected men seek treatment. But for those who don't, their relationships suffer and their self-esteem plummets. That's extremely unfortunate, because ED is not only common, it's treatable. And since ED is often caused by some other health problem, seeking treatment is crucial to more than just your sex life: Your life itself could depend on it.

In this article, we will explore all facets of erectile dysfunction over the course of the following sections:

This information is solely for informational purposes. IT IS NOT INTENDED TO PROVIDE MEDICAL ADVICE. Neither the Editors of Consumer Guide (R), Publications International, Ltd., the author nor publisher take responsibility for any possible consequences from any treatment, procedure, exercise, dietary modification, action or application of medication which results from reading or following the information contained in this information. The publication of this information does not constitute the practice of medicine, and this information does not replace the advice of your physician or other health care provider. Before undertaking any course of treatment, the reader must seek the advice of their physician or other health care provider.
Understanding Erectile Dysfunction
Approximately 22 percent of males between ages 20 and 75 in the United States suffer currently from erectile dysfunction. However, it is estimated that more than 50 percent of men between the ages of 40 and 70 suffer from erectile dysfunction at some time in their lives and about 10 percent of the men in that broad age group suffer complete erectile dysfunction. According to demographic studies and a projection of the U.S. population, the numbers of men with ED are going to increase dramatically. As a result, effective detection and treatment of ED will be an important health care priority. The most effective detection would start at home with the patient, but before symptoms can be diagnosed, the condition must be understood.


©2006 Publications International, Ltd.
50 percent of men between the ages of
40 and 70 suffer from
erectile dysfunction.

What Is Erectile Dysfunction?
Now that we have a better understanding of what erectile dysfunction is, let's take a look at some of the causes of the condition in the next section.
Every man has trouble achieving an erection from time to time. Fatigue, anxiety, and excessive alcohol consumption, among other factors, can all cause an occasional problem. Men who experience a sudden inability to have an erection often have a psychological origin to their condition. Just as an erection can result from thinking about sex, negative thoughts, such as those about financial problems, disagreements with a partner, or problems on the job, can prevent men from having an erection or limit its duration. Typically, men with this sort of erectile problem continue to have erections while they sleep or when they get up in the morning.
But an occasional problem achieving an erection is not the same as ED. Erectile dysfunction is the persistent inability to achieve or maintain an erection that is satisfactory for sexual intercourse, according to the National Institutes of Health. This is the accepted medical definition. The persistence of the problem is most significant; ED is chronic.
Why call it erectile dysfunction and not impotence, the word with which the public is most familiar? Because the word impotence is laden with heavy, negative connotations. Erectile dysfunction, on the other hand, simply and accurately describes the physical problem. While men with ED may be unable to have an erection sufficient for penetration, they may very well have a normal sex drive and the ability to achieve orgasm and to ejaculate. Their fertility is not affected.
The Anatomy of an Erection
To understand what causes erectile dysfunction, it is helpful to understand the physiology of the penis and how an erection occurs. The penis contains three chambers. Two chambers, paired on top, are called the corpora cavernosa and run along the length of the organ. One chamber on the bottom is called the corpora spongiosum and contains the urethra, or urinary channel. The chambers are each surrounded by an elastic membrane called the tunica albuginea.
The chambers inside the penis are filled with spongy tissue which, in fact, is smooth muscle similar to the muscle in the bowel and bladder. On cross section, this smooth muscle looks a little like a sliced tomato. The spongy tissue contains smooth muscles, fibrous tissues, veins, arteries, and spaces. When the penis is unaroused and flaccid, the arteries are small, the spaces collapsed, and what little blood goes in is allowed to leave through the veins.
Erection begins with mental and physical stimulation. Impulses from the brain and nerves prompt nerve endings in the penis to release nitric oxide (NO), causing the smooth muscles of the corpora cavernosa to relax, enlarging the tomatolike spaces and allowing blood to flow in and fill them. The blood creates pressure, causing the penis to expand. When the spongy tissue is completely full of blood, an erection occurs. The tunica albuginea traps the blood by compressing the veins, sustaining the erection. The process is reversed when a different set of nerves releases epinephrine, or adrenaline, which causes muscles to contract, minimizing the inflow of blood and opening outflow channels.
Achieving an erection, then, requires a sequence of events. Once initiated, a sexually stimulated erection is maintained by a complex interplay between blood vessels and nerves. The muscles have to relax, the arteries have to dilate, and the veins have to compress -- all at the same time. Should anything disrupt this sequence of events, you may experience erectile dysfunction. This includes disruption in nerve impulses in and between the brain, spinal cord, and penis and damage/malfunction in muscles, fibrous tissues, veins, and arteries in and near the corpora cavernosa.
This information is solely for informational purposes. IT IS NOT INTENDED TO PROVIDE MEDICAL ADVICE. Neither the Editors of Consumer Guide (R), Publications International, Ltd., the author nor publisher take responsibility for any possible consequences from any treatment, procedure, exercise, dietary modification, action or application of medication which results from reading or following the information contained in this information. The publication of this information does not constitute the practice of medicine, and this information does not replace the advice of your physician or other health care provider. Before undertaking any course of treatment, the reader must seek the advice of their physician or other health care provider.
Causes of Erectile Dysfunction
There are two fundamental reasons for not being able to achieve or sustain an erection: medical problems and psychological problems. The two often are intertwined. It's natural to develop emotional problems as a result of coping with a physical problem, and ED is no exception. But we'll talk about the physical reasons for ED first.

Medical Problems
Since the arteries and veins are so critical to achieving and maintaining an erection, any disease or disorder that damages them or impairs blood flow through them can cause ED. It makes sense, then, that most of the disorders associated with erectile dysfunction affect the arterial system. Diabetes is probably the single greatest cause of erectile dysfunction, with 35 to 50 percent of diabetic men affected. That's because diabetes causes vascular disease (disease affecting the blood vessels, including veins and arteries) and nerve damage, both of which directly impact the ability to achieve an erection. Many men with diabetes develop erectile dysfunction during their young- and middle-adult years, although their physicians frequently fail to make them aware of this complication. And many men experiencing ED who seek treatment for it often discover that their underlying problem is undetected diabetes or atherosclerosis (hardening of the arteries)--a good reason, if you need one, to seek help.


©2006 Publications International, Ltd.
Any condition that impedes blood flow can cause ED.

In addition to diabetes, kidney disease, chronic alcoholism, multiple sclerosis, atherosclerosis, and vascular disease account for about 70 percent of all cases of ED. Other risk factors for erectile dysfunction include hypertension (high blood pressure); hyperlipidemia (excess fat or lipids in the blood); hypogonadism (decreased activity of the reproductive glands); endocrine disorders; smoking; anemia; trauma or injury to the pelvis or spine; coronary artery disease; Peyronie disease (a painful curvature of the penis, making penetration impossible); disease of the erectile tissue of the penis; vascular, colon, or prostate surgery; and depression. If you have any of these conditions, your primary care physician should ask you, during your routine medical exam, if you are experiencing any sexual dysfunctions. Primary care physicians can and should be the first line of diagnosis and treatment for men with ED. However, if your physician doesn't ask, bring up the topic yourself. Many primary care providers simply are not sensitive to problems of sexual dysfunction and do not actively look for symptoms, although that is beginning to change now.

Medication: ED is also a side effect of many common drugs, including prescription and over-the-counter medications and illegal drugs. It's estimated that 25 percent of all cases of ED have medication as their underlying cause.

Drugs taken for any of the following conditions may hamper your sexual functioning: high blood pressure, angina, ulcer, irritable bowel syndrome, anxiety, depression, psychosis, obesity, heroin addiction, alcoholism, tuberculosis, insomnia, prostate cancer, and glaucoma. If you are taking medication for any of those conditions and suspect it may be responsible for your ED, see your doctor right away; don't stop taking the medication on your own! Although your medication may be causing problems, the condition it was prescribed to treat can just as easily be the problem.Your doctor should be the one to decide whether the drugs are responsible for your ED problems and, if so, what to do about it. In many cases, stopping or switching the medication restores erectile functioning.

The following detailed list of prescription drugs has been reported to cause problems with erections, desire, potency, or ejaculation. Brand names are listed first, followed by generic names in parentheses:

High blood pressure and antianginal medications:



alpha adrenergic blockers, including Cardura (doxazosin), Dibenzyline (phenoxybenzamine), Esimil (hydrochlorothiazide and guanethidine), Flomax (tamsulosin), Ismelin (guanethidine), Hylorel (guanadrel), Hytrin (terazosin), Minipress (prazosin), Minizide (polythiazide and prazosin), and Uroxatral (alfuzosin)



a medication that contains methyldopa, such as Aldoclor, Aldomet, and Aldoril



andrenergic stimulants, such as Catapres (clonidine), Combipres (clonidine and chlorthalidone), Tenex (guanfacine), and Wytensin (guanabenz)



angiotensin converting enzyme (ACE) inhibitors, such as Lotensin (benazepril), Capoten (captopril), and Vasotec (enalapril)



beta blockers, such as Corgard (nadolol), Inderal (propranolol), Levatol (penbutolol), Lopressor (metoprolol), Sectral, (acebutolol), Tenormin (atenolol), Toprol (metoprolol), and Visken (pindolol)



calcium channel blockers, such as Adalat or Procardia (nifedipine), Calan or Isoptin or Verelan (verapamil), Cardene (nicardipine), Cardizem or Dilacor (diltiazem), Dynacirc (isradipine), Norvasc (amlodipine), Plendil (felodipine), and Vascor (bepridil)



diuretics, such as Aldactone (spironolactone), Bumex (bumetanide), Lozol (indapamide), Midamor (amiloride), and Mykrox or Zaroxolyn (metolazone)



combination drugs containing reserpine, such as Diurpres, Hydropres, and Ser-Ap-Es;drugs for enlarged prostate conditions (BPH), such as Avodart (dutasteride) and Proscar (finasteride)



Ulcer and irritable bowel syndrome medications that might cause ED include Donnatal and Kinesed (belladonna alkaloids and phenobarbital), Levsin (hyoscyamine), Pro-Banthine (propantheline), Quarzan (clidinium), Robinul (glycopyrrolate), and Tagamet (cimetidine).
Antianxiety drugs that might cause ED include BuSpar (buspirone), Centrax (prazepam), Limbitrol (chlordiazepoxide and amitriptyline), Valium (diazepam), and Xanax (alprazolam)


Many antidepressants can cause erectile problems; these include monoamine-oxidase (MAO) inhibitors such as Marplan (isocarboxazid), Nardil (phenelzine), and Parnate (tranylcypromine); serotonin-reuptake inhibitors, such as Prozac (fluoxetine) and Zoloft (sertraline); and tricyclic antidepressants, such as Ludiomil (maprotiline), Anafranil (clomipramine), Asendin (amoxapine), Elavil or Endep (amitriptyline), Etrafon or Triavil (perphenazine and amitriptyline), Norpramin (desipramine), Pemlor (nortriptyline), Sinequan or Triadapin (doxepin), Surmontil (trimipramine), Tofranil (imipramine), Vivactil (protriptyline), Desyrel (trazodone), and Wellbutrin (bupropion)


Many antipsychotics affect potency, including Clozaril (clozapine); Compazine (prochlorperazine); Haldol (haloperidol); Eskalith, Lithane, Lithium, Lithobid, Lithonate, Lithotabs, or Cibalith-S (lithium); Mellaril (thioridazine); Navane (thiothixene); Prolixin (fluphenazine); Serentil (mesoridazine); Stelazine (trifluoperazine); Taractan (chlorprothixene); Thorazine (chlorpromazine); and Trilafon (perphenazine)


Amphetamines such as Desoxyn (methamphetamine) are prescribed for weight loss and can cause ED



Treatments for various diseases and addictions have been reported to cause impotence or erectile dysfunction. These include Methadone for heroin addiction, Antabuse for alcoholism, Trecator for tuberculosis, Doral for insomnia, glaucoma medications, and any estrogen- or progesterone-containing drugs used to treat prostate cancer.
Alcohol and nicotine: Many people seem to think that a good, stiff drink heightens the sexual experience. Actually, nothing could be further from the truth. Alcohol is a depressant, and, when consumed in more than small amounts, it really reduces the ability to have an erection. And it's well known that alcohol can have harmful effects on the body that can cause many long-term health problems, including physical problems with having and maintaining erections. Cutting back on or giving up alcohol altogether can have many healthy benefits, including eliminating a major cause of ED.

Nicotine has both an immediate and a long-term effect on erections. Nicotine directly interferes with the nerve pathways that produce and maintain an erection, and tobacco smoke causes heart disease and circulatory problems that reduce the supply of blood to the penis and destroy the flexibility of tissues. There really are no good reasons to smoke, but who would have thought that a better sex life might be a reason to quit? It's true, but it's wise not to expect miracles, either. Cutting back on alcohol and quitting smoking won't restore full potency overnight, and you may never restore the vigor you once had. But smokers and drinkers who clean up their acts see improvement in their sex lives and their overall health.

©2006 Publications International, Ltd.
Smoking has both an immediate and a long-term effect on erections.


Age: ED is often assumed to be a natural result of the aging process, to be tolerated along with other conditions associated with advancing age, such as hearing loss and vision impairments. But that's just another common misconception. ED does increase progressively with age -- it strikes 5 percent of men who are 40 years old, but that number rises to 15 to 25 percent for those age 65 and older -- but it's important to understand that it is not an inevitable consequence of aging. That bears repeating: Erectile dysfunction is not an inevitable consequence of aging.

The reason that the incidence of ED increases with age has to do with other age-related conditions. The older you are, the more likely you are to have developed diabetes, vascular disease, hypertension, or other diseases that increase the risk for erectile dysfunction. ED can also be a consequence of medical treatments for other specific illnesses. Routine surgery, such as prostate surgery, can injure nerves and arteries near the penis, causing ED. Injury to the penis, prostate, or bladder can be contributing causes of erectile problems by harming nerves, smooth muscles, arteries, and fibrous tissues of the corpora cavernosa. Medication, as mentioned earlier, is a common cause. And years of cigarette smoking or alcohol or drug abuse begin to take a heavier toll on the body as we get older. These, too, can interfere with the ability to have an erection.

Psychological Factors
Until recently, it was mistakenly believed that ED was primarily a psychological problem. Men were made to feel their inability to achieve an erection was mostly "their fault." Many health care professionals believed erectile dysfunction was caused by mental or emotional problems, and patients were told, in effect, "It's all in your head."

But today, experts believe that most cases of ED are caused by physical problems related to the circulatory and/or nervous systems. Psychological factors are thought to be the primary cause of only 10 to 20 percent of the cases of ED. Depression, for instance, is a major psychological cause of erectile dysfunction.

That's not to say that there isn't a psychological aspect to ED, even when depression or some other psychological problem is not the direct cause. There is a psychological element in virtually all cases of ED. Psychological factors include stress and anxiety from work or home; worry about poor sexual performance; marital problems; unresolved sexual orientation; depression; and fear or anxiety about contracting sexually transmitted diseases, including HIV/AIDS. And performance anxiety (fear of failure) is self-fulfilling, as anxiety produces adrenaline, which constricts the penile tissue and prevents an erection. All of these issues reduce erotic focus or awareness of sensory stimulation that normally would be arousing. These factors are broadly associated with more than 80 percent of cases of impotence, usually as secondary reactions to underlying physical causes.

Whether a man's erectile problem is caused by physical or psychological factors, or a combination of the two, it is likely to become a source of mental, emotional, and physical stress. Erectile problems frequently have a profound effect on self-esteem and self-confidence. The ability to function sexually helps men define their role and shapes their identity. Loss of erectile function can be devastating.

Many men suffer in silence, convinced that they have no one to confide in, no one who will understand. Even if they don't blame themselves, they believe that others will. And they think that "real men" don't talk about their problems anyway.

Men experiencing ED have many other worries, too, which only compound their problem. They worry that they are failures as men and wonder if their partners will leave them. Because of the emotional pain associated with ED, it's common for men to make excuses to avoid sex with their partners. This can make a partner feel inadequate or unattractive, leading to rejection, loneliness, or depression. Women sometimes wonder if their partner is having an affair. The common failure of the man to communicate his condition only makes matters worse.

Seeking help for erectile dysfunction can also be a source of stress for the patient. Though doctors are well versed in the causes and reasons for the conditions, apprehension can stop some men from seeking medical advice. The truth is, treatment for ED is similar to the treatment of any other medical condition. In the next few sections, we will show you what you can expect when you seek a doctor's help for erectile dysfunction. We'll get started in the next section with diagnosis.
­
This information is solely for informational purposes. IT IS NOT INTENDED TO PROVIDE MEDICAL ADVICE. Neither the Editors of Consumer Guide (R), Publications International, Ltd., the author nor publisher take responsibility for any possible consequences from any treatment, procedure, exercise, dietary modification, action or application of medication which results from reading or following the information contained in this information. The publication of this information does not constitute the practice of medicine, and this information does not replace the advice of your physician or other health care provider. Before undertaking any course of treatment, the reader must seek the advice of their physician or other health care provider.
­
Diagnosing Erectile Dysfunction
The workup of a patient with ED does not have to be elaborate or expensive. The basic evaluation consists of many components that should be part of a routine physical. Furthermore, a goal-oriented approach (that is, an approach concentrating on what can be done or what is available) must be kept in mind. The two key questions that should be answered are: 1) Is there any significant medical problem? and 2) What can be done?



Taking a Medical History



Diagnosis begins with a complete medical history, which every man should have periodically regardless of whether he has erectile dysfunction. Giving an accurate and detailed medical history is essential, because it can disclose diseases that can lead to ED. Risk factors for circulatory problems, which are a major cause of ED, include hypertension, diabetes, smoking, heart disease, peripheral vascular disorders, pelvic trauma or surgery, and blood lipid abnormalities. A history of diabetes or alcoholism may be the cause of neurologic problems. Other neurologic causes, such as multiple sclerosis, spinal injury, or head injuries, will also be covered during the medical history. Your history will also reveal other important causes of ED, such as radical pelvic surgery, radiation therapy, Peyronie disease, penile or pelvic injury, prostatitis, prostate cancer, priapism (abnormally persistent erections that make penetration impossible and may cause permanent damage to the penis), or urinary problems. Your physician will also want to know about any information from previous impotence evaluations or treatments.

©2006 Publications International, Ltd.
Treating erectile dysfunction, and any medical condition,
should start by taking a detailed medical history with your doctor.

You should also be prepared to list the medications (this includes illegal drugs) that you are currently taking or have taken in the past. Since one-fourth of all cases of ED are attributable to medications prescribed for other conditions, this is an extremely important part of the history. If medications are the root of your problem, cutting back on or substituting certain medications may be all that's necessary to conquer it.

Common questions that will be asked as part of the medical history include:

Do you have any chest pain?


Do you have any shortness of breath?


Do you experience pain in the legs with exercise or walking?


Do you have a history of hypertension?


Does your family have a history of heart disease, diabetes, or prostate cancer?


Do you have any swelling in the legs?


Do you have any numbness or a loss of sensation in the legs or penis?


Do you have curvature of the penis with an erection?



Have you experienced any dizziness or fainting?
Your physician will also ask you for a detailed and honest sexual history. This sexual history is necessary to accurately assess your specific complaints. A simple recounting of sexual activity might distinguish between problems with erection, ejaculation, orgasm, or sexual desire. Flagging sexual desire, for instance, could indicate a hormonal imbalance. The doctor will ask when the problem started and how often it occurs. And you will be asked about the quality and duration of erections, whether you experience nocturnal (nighttime) or morning erections, and whether you are able to have satisfying sex.

Other questions may cover details of sexual technique, patient and partner expectations, and the patient's specific motivation for treatment. The doctor will look at relationship and emotional factors to see if they have any bearing on your difficulties. Are you experiencing performance anxiety? Are there family problems or problems with your partner? Ideally, your partner should be part of this process and should be encouraged to come along. This will give her the opportunity to support you and to contribute to the discussion. And it will be helpful for her to hear firsthand about the causes and treatments for ED. If she does attend, she will also be interviewed, although not necessarily at the same time that you are. A written questionnaire may be helpful, but it shouldn't substitute for the interview. Finally, the physician will want to know what you hope to get out of treatment.



Psychological Screening



A good medical history includes a psychological assessment. Various psychological tests and sexual questionnaires may be used, if indicated. If the initial evaluation indicates that the erectile problem is primarily psychological or that a major relationship problem exists, your doctor will refer you to a qualified mental health professional, such as a psychiatrist, psychologist, or social worker. The same is true if you have a history of any psychiatric disorders.



The Physical Examination



A physical examination is the second step in the diagnostic process. The exam can give clues to systemic problems. For example, if the penis does not respond as expected to certain touching, a problem in the nervous system may be responsible for the dysfunction. If examination reveals abnormal secondary sex characteristics, such as hair distribution, hormonal problems involving the endocrine system might be the cause. The exam will also include pulse rates in the arteries of the legs and lower extremities. Circulatory problems might be indicated by the pulse rates or perhaps by discovery of an aneurysm in the abdomen.

The physician will also examine the genitals, evaluating testes size and consistency. Unusual characteristics of the penis might explain the cause of the dysfunction. For example, severe angulation of the shaft during erection could be the result of Peyronie disease. The physician will also perform a digital rectal exam to evaluate prostate size and anal sphincter tone.



Laboratory Tests

©2006 Publications International, Ltd.
Simple blood tests can also be an
effective tool in diagnosing
erectile dysfunction.

Several simple laboratory tests can also help indicate the causes of ED. Typically, the tests for systemic diseases will include complete blood counts, urinalysis, lipid profile, measurement of creatinine and liver enzymes, and fasting blood sugar. Hormonal evaluation includes thyroid examinations. Laboratory evaluation will also include a morning serum testosterone test. ED caused solely by low testosterone levels is unusual, but lowered sexual desire as a result of low testosterone may be a contributing cause. If a low testosterone level is reported, you will be retested.

Additional Tests for Erectile Dysfunction

Healthy men have involuntary erections during sleep, so if you don't have nocturnal erections, it is likely that there is a physical, rather than a psychological, cause for your ED experiences. When a patient reports no erections whatsoever or when a psychological cause is suspected, a nocturnal penile tumescence test can be helpful. This test monitors erections that occur during sleep, either by using a Velcro band or another, more sophisticated tool. You should be aware, however, that the nocturnal penile tumescence tests are not completely reliable and are rarely indicated. Scientists have not standardized such tests, and doctors have not determined when they should be used to obtain the best results.

When diagnostic tests are inconclusive, further studies, including invasive tests, may be necessary. Further testing is also necessary for patients who are considered candidates for vascular surgery. Additional testing might include intracavernous pharmacologic injection -- an injection of a drug such as papaverine, phentolamine, or prostaglandin into the corpora cavernosa. If the injection produces a fast and sustained erection, the test can eliminate any significant arterial or venous insufficiency. The injection test also indicates good candidates for injection therapy.

Patients who are candidates for vascular surgery or who want more accurate assessment of their arterial functions may undergo other tests including ultrasonography, cavernosometry/cavernosonography, and pharmacologic pelvic or penile angiography. However, the effectiveness of these procedures is limited by appropriate patient selection, the skill of the professional doing the testing, the variable interpretation of results, and the poor predictability of success of arterial and venous surgery. Further research is necessary to develop standards for methodology and interpretation of results.

The medical and sexual histories, the physical exam, and the laboratory tests will all help your physician determine whether your problem with ED is primarily physical, psychological, or a combination of the two. Once the diagnosis is made, your doctor will help you determine how to proceed. Depending on the cause, you may be referred elsewhere for help. If you have a hormonal imbalance, for instance, you may be referred to an endocrinologist for further evaluation. Or perhaps the initial results suggest that you'd benefit from a complete neurologic evaluation. If psychological causes are suspected, you will be urged to seek further psychological evaluation and therapy. No matter what the diagnosis, treatment is available. In the next section, we help you get that treatment for erectile dysfunction. From when to see a doctor to who you should take with you, we'll cover all the bases.


This information is solely for informational purposes. IT IS NOT INTENDED TO PROVIDE MEDICAL ADVICE. Neither the Editors of Consumer Guide (R), Publications International, Ltd., the author nor publisher take responsibility for any possible consequences from any treatment, procedure, exercise, dietary modification, action or application of medication which results from reading or following the information contained in this information. The publication of this information does not constitute the practice of medicine, and this information does not replace the advice of your physician or other health care provider. Before undertaking any course of treatment, the reader must seek the advice of their physician or other health care provider.

Seeking Help for Erectile Dysfunction
The good news is that no matter what the diagnosis, ED can almost always be treated safely and effectively. Recent medical advances, including the availability of oral agents like Viagra, ensure that men with ED can have a full and active sex life. And, as you can see from the statistics, if you are experiencing problems with erectile function, you have plenty of company.

Are you unsure if it's necessary to seek help for your problems? It's a good idea to visit a urologist if you:

never or rarely have erections while sleeping or when getting up in the morning


can't get an erection while trying to masturbate


can't keep an erection until ejaculation


get an erection only right before ejaculation


have had no improvement in erections using some other form of treatment



have decreased or absent desire (libido)
If you have good erections some but not all of the time, can get a good erection while masturbating but not with your partner, or with one partner but not another, it's likely that something is wrong with your "chemistry" with certain people, not with your body chemistry.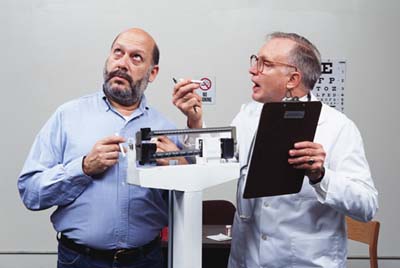 ©2006 Publications International, Ltd.
A doctor can help you rule out physical causes of erectile dysfunction.

Where to Begin

Urologists, who specialize in problems of the genital and urinary systems, have traditionally treated impotence and ED and are the most knowledgeable. Making an appointment with a urologist, then, is a good idea even if you think your problem is purely psychological in origin. A urologist will be able to detect any physical problems of which you may not be aware and should be familiar with all treatment options.

However, urologists' expertise in urinary and genital functions doesn't mean that they are all experts in sexual matters. It's best to see a urologist who specializes in impotence and other sexual problems. You'll want to see a professional who regularly diagnoses and treats ED and who stays current on the latest research and treatments. An ED specialist should: 1) See 20 or more men a month, 2) Make you feel comfortable both on the phone and in the office, as should the doctor's staff, 3) Encourage your partner to be involved, 4) Offer all available options.

Your family doctor should be able to recommend an appropriate specialist. If your physician doesn't have a recommendation or you don't have a family doctor, see the resource section in the back of this book for suggestions about where to go for help.

Be Prepared

Make sure you are fully prepared for your appointment with the urologist or health care professional. Good preparation means you know your medical history, have reviewed your sexual history, and can recount the chronology of your problem. All that information will give the doctor a complete picture. Think about what you want to get out of treatment, and have a list of questions ready. If for any reason you're uncomfortable with the doctor, remember that you can find someone else.



Should You go Alone?



Some men prefer to deal with their ED alone, with no help or assistance from their partner. In fact, some see a doctor and seek medical advice without first talking about it with their partner; some men even hide the fact that they are seeking treatment. Of course, seeking treatment is most important. And you should do it in the way you feel most comfortable, whether that means seeking help by yourself or with a partner. However, a survey found that 50 percent of men with ED want their partners to go with them to the doctor. And most doctors agree that your chances of successfully treating ED are much better when you work together with your partner. This alliance can begin with a visit to the doctor.

Furthermore, in order to appropriately treat ED and nurture and strengthen a relationship, you should try to communicate openly and honestly with your partner. Open communication is the starting point for regaining sexual function. Most importantly, you need to confront any concerns you may have about your impotence problems by discussing your feelings and reassuring your partner that you still care and that she is not to blame. A sympathetic health care professional knowledgeable in both the physical and emotional impact of ED is also crucial for treatment to be successful. With teamwork between you, your partner, and your doctor and other health care professionals, you can find the treatment that works best for you and in the process become healthy and whole again.



General Considerations



Before discussing specific treatment methods, there are a few general points you need to keep in mind while considering your options:

Treatment should be individualized to the patient's and partner's desires and expectations. While it is important to determine the main cause of the problem, that doesn't automatically dictate the treatment. For example, many men have had penile implants despite the lack of evidence that medical problems were causing their ED. They simply wanted to be fixed. On the other hand, some men might want to try counseling instead.


The motivations and expectations of the man and his partner are critical in determining the appropriate treatment and evaluating its results.


Treatment works best when both partners are included.


In general, the least invasive and/or dangerous procedures should be used first.


Psychological therapy is useful with all forms of treatment of ED, even when the causes are strictly physical, and counseling works best when both partners are involved.


The patient and his partner should be well-informed by their health care professional about all treatment options, including their effectiveness, side effects, and costs.


Don't be afraid to try different therapies.


If any single therapy fails, combining two or more treatments may be useful.


No matter what the treatment, long-term follow-up by a doctor is important in helping the patient adjust to the procedure. Follow-up should include careful evaluation and dropping of ineffective treatments and examination and evaluation of other options in this event.



For reasons not entirely understood, but no doubt due to the sensitive nature of ED, there is a high dropout rate in all forms of treatment of ED.
Now that you know the diagnosis for erectile dysfunction, we will begin to discuss some of the treatments. In the next section, we will begin with the simplest, non-invasive treatments.


This information is solely for informational purposes. IT IS NOT INTENDED TO PROVIDE MEDICAL ADVICE. Neither the Editors of Consumer Guide (R), Publications International, Ltd., the author nor publisher take responsibility for any possible consequences from any treatment, procedure, exercise, dietary modification, action or application of medication which results from reading or following the information contained in this information. The publication of this information does not constitute the practice of medicine, and this information does not replace the advice of your physician or other health care provider. Before undertaking any course of treatment, the reader must seek the advice of their physician or other health care provider.

Non-Invasive Treatments for Erectile Dysfunction
Doctors agree that it's best to start with the simplest, least invasive treatment first, only moving to more invasive treatments if the initial treatments don't work. Your discussion with the doctor and your medical history may have uncovered medications that should be changed or discontinued or a medical condition that should be treated to help resolve your problem. Lifestyle changes, too, such as cutting back on alcohol intake or smoking, getting at least a minimal amount of exercise, and eating a lowfat diet, are also part of the initial treatment. And psychological counseling is almost always recommended as a good place to start.



Psychological Counseling



Because ED can often result from depression or from a combination of psychological and physical factors, professional counseling is often recommended. Counseling can lessen anxiety, which may in turn reduce the impact and duration of ED. Therapy is often used in combination with other treatments directed by a physician.

©2006 Publications International, Ltd.
Depression or stress can be a cause of erectile dysfunction.

It can't be stressed enough that psychological issues are present in all forms of ED, even those that are the result of a medical problem. Therefore, psychological counseling and therapy should be a part of every man's treatment. Counseling by itself may be enough for patients with no physical cause for their dysfunction, and it may be the only recourse for men who refuse any medical or surgical treatments.

A therapist should first evaluate whether problems such as dysfunctional relationships or alcohol and drug abuse are the causes or important co-causes of the ED. Counseling is also important in dealing with performance anxiety and other problems a man may have that interfere with sexual stimulation and erections. Professionals will work with couples to educate them regarding normal sexual response and ED so they can cope with sexual problems and help them recognize that with aging there are normal changes that occur in the man. These include delay in obtaining an erection, taking a longer time to ejaculate, not ejaculating every time, and a longer recovery time between erections. Some antidepressant medications may help with premature ejaculation, but the Food and Drug Administration (FDA) has not yet approved them for this purpose.

The involvement of your sexual partner is paramount. After all, a man can only be considered whole in relation to his entire set of relationships, especially his primary family relationships. Good, constructive therapy should help relieve anxiety and depression and improve your sexual functioning. It should also teach stress reduction and anxiety control and help you recognize the signals of increasing anxiety.



Muscle Toning



Toning muscles serving the portion of the erectile tissue that is inside the body -- the ones that become tense to help erections become stronger and that cause ejaculation when they contract -- may also be helpful. Although it doesn't usually require a conscious effort on your part to contract these muscles, some researchers in Belgium believe that men might be able to be taught to use and strengthen them, thereby improving the erection. These researchers have developed a set of pelvic floor exercises, much like the Kegel exercises for strengthening the pelvic floor muscles that are often practiced by women, that tense and tone these muscles.



Oral Medications



Oral medications work best in men whose main problem is anxiety or other emotional problems, but it also works in men with physical problems if the erectile tissue has not been severely damaged. In clinical studies, 70 to 80 percent of men with ED obtained good results with oral medications. While the development of on-demand oral medications is a tremendous advance, they won't work for all men, and other treatments will continue to help men with erection problems. Due to the tremendous popularity of Viagra, most of the treatments that were considered first-line therapies have now been pushed back to secondary options used only after Viagra or another oral agent has failed.

©2006 Publications International, Ltd.
There are a variety of oral medications
to treat erectile dysfunction.

In addition to Viagra, Levitra, and Cialis, there are other oral medicines that may be helpful. Yohimbine is a drug in pill form that comes from the bark of an African tree called yohimbe. It is commonly given to men complaining of erection problems and low sexual desire and has been touted as an aphrodisiac for decades. Yohimbine has produced good results in animal studies, but experts do not agree about its effectiveness for men with erection problems. Some claim good results; others don't. Overall, its success rate has been little better than a placebo pill. Two studies, both financed by pharmaceutical companies, claim that yohimbine might help between 20 and 40 percent of men who take it. It might be especially good for men who don't have any advanced physical causes for their problem.

Yohimbine is associated with potentially significant side effects, including palpitations, an increase in blood pressure, tremors, agitation, and nervousness. Under no circumstances should you use this medication if you have a history of palpitations or high blood pressure.

Yohimbine is available in prescription form (Yocon) as a pill that can be taken three times a day. It is also available in health food stores, where it may be bought in its generic form (yohimbine) in varying doses. A word of caution: Studies show that over-the-counter yohimbine is inconsistent in dosage and effect and no cheaper than prescriptions. It is best to have yohimbine prescribed by a doctor.
Other medications that might help some men are Trental (pentoxifylline), Vasodilan (isoxuprine), and Desyrel (trazodone). Trental and Vasodilan increase blood flow to the leg arteries. There are minimal side effects. Desyrel is an antidepressant, but in a small percentage of men, it increases penile blood flow, helping to restore sex drive. It is considered risky by doctors, however, to use a drug for its side effects. Side effects of Desyrel include retrograde (into the bladder) ejaculation and priapism, the medical term for a prolonged erection that occurs without sexual stimulation and continues after ejaculation and orgasm. Priapism is a dangerous medical condition that can result in irreversible damage to the penis. Desyrel is often used in combination with yohimbine.

Some men have also claimed results from using dopamine and serotonin agonists, but no scientific studies have proved the effectiveness of these drugs in dealing with ED. As with yohimbine, any improvement following their use may be a placebo effect -- that is, it produces good results simply because the patient believes it will.

Hormone Supplements

Five percent of all cases of ED are caused by abnormal levels of sex hormones, such as low levels of testosterone, excess prolactin, or excess estrogen. If your testosterone level is low, your urologist may prescribe a series of intramuscular testosterone injections every few weeks for several months or testosterone patches that you place on the scrotum or on your torso. Oral testosterone is rarely recommended because it is often ineffective and can cause liver damage. While a low testosterone level is rarely the cause of erectile problems, it might be a contributing factor, especially in older men, because it decreases sexual desire.

There are some serious questions about testosterone injections, however, because there is evidence that the prostate gland responds to testosterone levels. Testosterone might make the prostate grow larger, causing urination problems. It may also play a role in the development of prostate cancer. Hormones also thicken the blood, increasing the risk of circulatory problems. Another drawback is that hormone supplementation may lead to a lifetime dependency, as it reduces the body's ability to produce its own hormones, causes testes to shrink, and thickens blood by increasing red blood cells.

The indiscriminate use of oral testosterone or oral DHEA (the precursor to testosterone, which is available at many health food stores) may be associated with significant side effects, such as interference with blood triglyceride and cholesterol levels, increased risk of stroke, increased benign enlargement of the prostate, and, most importantly, acceleration of the growth of microscopic amounts of prostate cancer that may previously have been undetectable.

Vacuum Devices

Aside from medication, vacuum devices are the least invasive treatment for ED. Although mechanical and somewhat cumbersome to use, they do work. Used properly, a vacuum device will produce an erection in just about any man. In fact, they have caused erections in paralyzed men who have no feeling at all in their penises.

These mechanical devices cause an erection by creating a vacuum around the penis, drawing in blood and making it erect. The devices have three parts: a plastic cylinder in which the penis is placed; a pump, which draws air out of the cylinder; and an elastic band (constriction ring), which is put around the base of the penis to maintain the erection after the cylinder is removed (and during intercourse) by keeping the blood from flowing out of the penis. A variation of the vacuum device uses a semirigid rubber sheathe that is placed on the penis and left there after the penis is erect and during sex.

Instruction in the use of a vacuum device is important so that you can use it properly and successfully. Since a constriction ring at the base of the penis maintains the erection, the part of your penis that is inside the body may not be as rigid, producing a hinge effect. And your penis might be a little colder than normal because of the restricted blood flow.

Although vacuum devices may be inconvenient and take away some from the spontaneity of lovemaking, they are very safe and noninvasive and have no significant side effects. Some men even claim that after a few uses they can attain normal erections without the device.

Vacuum devices don't come cheap, however. Most manufacturers require a prescription, and a good device will cost anywhere from $200 to $400. The cost is often covered by insurance, though. And many urologists are willing to lend vacuum devices on a trial basis.

A word of caution: Do not leave the constriction ring on longer than 30 minutes or you may cause damage. Also, please be aware that the bands used with vacuum devices are not the same as rubber bands purchased from an office supply store; regular rubber bands can cause serious damage to the penis and should never be used.

Injection Therapy

Injection therapy, which has been used since 1990, involves the self-injection of medication into the shaft of the penis. It produces good quality erections for about 70 to 80 percent of men who have ED. The medications used, including prostaglandin E1, papaverine, and phentolamine, all relax the smooth muscle of the penis, allowing blood to flow into the penis and to not escape.

Injection therapy requires a prescription. A urologist will determine the correct dose and teach you how to inject yourself. Although it sounds scary and painful, most men do not report much discomfort. A very fine needle (the same kind used to give allergy shots) is used, and it is put into an area with very few nerve endings. In some men, however, the medicine itself, not the shot, does cause a burning sensation.

The upside is that the shot produces a very good erection that will last from 30 to 60 minutes, or longer. The erection may last even after ejaculation, and sometimes until the medication wears off, which could be as long as two or three hours.

Injection therapy is less risky than surgery, and the erections look and feel more natural than those produced by a vacuum device, although some men say that the erection produced by injection is also unnatural. But there are downsides, too. First, the thought of putting a needle into the penis may be a turnoff to many men. And, like the vacuum device, injection therapy means interrupting sexual activity and disrupting spontaneity. More troubling downsides include a 7 to 10 percent chance of scarring of the elastic tissue, causing a deformity to the erect penis, and the risk of getting priapism, which is an erection that won't go down. Priapism is more of a risk early in treatment, when the urologist is trying to fine-tune the correct dosage. Any erection that lasts longer than three or four hours requires a trip to the doctor or emergency room to prevent permanent damage to the penis.

Finally, there is the issue of cost. The cost of injection therapy depends on the manufacturer and ranges in price from $10 for each injection to $80 for a three-month supply of injections. Not all insurance plans cover injection therapy.

Though they might not be the preferred option, surgical treatments might succeed where non-invasive treatments have failed. We will discuss these measures in the next section.


This information is solely for informational purposes. IT IS NOT INTENDED TO PROVIDE MEDICAL ADVICE. Neither the Editors of Consumer Guide (R), Publications International, Ltd., the author nor publisher take responsibility for any possible consequences from any treatment, procedure, exercise, dietary modification, action or application of medication which results from reading or following the information contained in this information. The publication of this information does not constitute the practice of medicine, and this information does not replace the advice of your physician or other health care provider. Before undertaking any course of treatment, the reader must seek the advice of their physician or other health care provider.

Surgical Treatments for Erectile Dysfunction
These most basic treatments aren't your only options, though. There are also surgically implanted devices, and in rare cases, surgery involving the veins or arteries of the penis. Let's take a closer look at each of these therapies.

©2006 Publications International, Ltd.
While surgical treatments can be
intimidating, they can also
be quite effective.

Urethral Inserts (MUSE)

An alternative to the injection is the urethral insert, which involves the insertion of a rice grain-size pellet of prostaglandin into the end of the penis. This is accomplished by using a plastic plunger specially designed for this purpose. The medication is absorbed through the urethra and produces an erection. Most men find this alternative delivery system acceptable. The results are adequate for about 30 to 40 percent of men, although the penis does not become rock hard. Fifteen percent of men complain of pain in the penis. MUSE treatment also requires a prescription. The medication costs $15 to $30 per pellet, but it is covered by many insurance plans.

Arterial and Venous Surgery

Arterial and venous surgery are used for two reasons: to reconstruct arteries to increase blood flow to the penis or to block off veins that let blood escape from the penis. Surgery should only be considered when a specific blood-flow problem is identified. Even then, results are not impressive, and few men are really good candidates for artery or vein surgery. To determine whether you are a candidate, further diagnostic tests will be necessary. When a patient has artery problems, all his arteries, blood vessels, and the spongy tissue of the penis are affected, so it's not just a matter of patching a few vessels. The best candidates for this type of surgery are young men with arterial blockage from a crotch injury or fracture of the pelvis, and even for them the success rate is only about 60 percent. If you do decide to have surgery, be sure to have it done by a skilled surgeon at a university medical center or by a doctor who specializes in vascular surgery. And get a second opinion before you make a commitment to have surgery.

Penile Implants

Penile implants are the last resort for a man with ED. Of all the approaches discussed, implants require the most thought because they are basically irreversible. Implants replace the natural erection tissue, and although they can be removed, the chances of having a normal erection again are small. That being said, thousands of implants are done annually, and 90 to 95 percent of men who have them are satisfied and thrilled that they can again have sex.

There are two basic types of implants -- semirigid or malleable, and inflatable. Malleable implants consist of a pair of silicon rods placed inside the penis. With earlier models the man always had an erection. Newer models are more flexible and can be positioned against the leg for a more normal appearance and feel.

Inflatable implants imitate the action of a normal erection. A pair of hollow cylinders are placed inside the erectile tissue of the penis. Tubes connect the cylinders to a fluid reservoir and pump, all of which are surgically implanted inside the body. Today's state-of-the-art implant is a three-piece hydraulic implant, with a reservoir for inflation in the abdomen. When a man with this type of implant wants to have an erection, he inflates the cylinders with a small pump present in the scrotum. Inflatable implants seem more natural; the penis is soft when uninflated and hard when inflated.

Penile implants have been around for a long time now, are easier to put in than before, and are more effective than ever. They let a man have a good erection without shots, and, while they are expensive, they are covered by many insurance plans. Complication and infection rates are very low. However, since implants involve surgery, are basically irreversible, and involve risk, however slight, of mechanical failure requiring more surgery, anyone considering an implant really should get a second opinion and carefully pick a skilled surgeon. It's also a good idea to talk to other men who have an implant. Your physician should also be able to provide you with a video.

Erectile dysfunction can be a frustrating and embarrassing problem. Hopefully you have seen that erectile dysfunction is a medical condition like any other -- it can be diagnosed, treated, and, sometimes, even cured.

©Publications International, Ltd.


This information is solely for informational purposes. IT IS NOT INTENDED TO PROVIDE MEDICAL ADVICE. Neither the Editors of Consumer Guide (R), Publications International, Ltd., the author nor publisher take responsibility for any possible consequences from any treatment, procedure, exercise, dietary modification, action or application of medication which results from reading or following the information contained in this information. The publication of this information does not constitute the practice of medicine, and this information does not replace the advice of your physician or other health care provider. Before undertaking any course of treatment, the reader must seek the advice of their physician or other health care provider.