Seeking Help for Erectile Dysfunction
The good news is that no matter what the diagnosis, ED can almost always be treated safely and effectively. Recent medical advances, including the availability of oral agents like Viagra, ensure that men with ED can have a full and active sex life. And, as you can see from the statistics, if you are experiencing problems with erectile function, you have plenty of company.

Are you unsure if it's necessary to seek help for your problems? It's a good idea to visit a urologist if you:

never or rarely have erections while sleeping or when getting up in the morning


can't get an erection while trying to masturbate


can't keep an erection until ejaculation


get an erection only right before ejaculation


have had no improvement in erections using some other form of treatment



have decreased or absent desire (libido)
If you have good erections some but not all of the time, can get a good erection while masturbating but not with your partner, or with one partner but not another, it's likely that something is wrong with your "chemistry" with certain people, not with your body chemistry.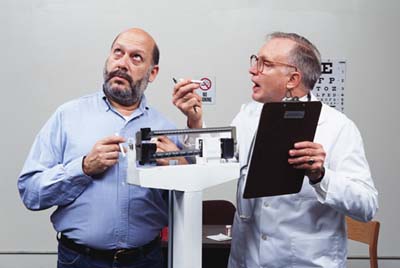 ©2006 Publications International, Ltd.
A doctor can help you rule out physical causes of erectile dysfunction.

Where to Begin

Urologists, who specialize in problems of the genital and urinary systems, have traditionally treated impotence and ED and are the most knowledgeable. Making an appointment with a urologist, then, is a good idea even if you think your problem is purely psychological in origin. A urologist will be able to detect any physical problems of which you may not be aware and should be familiar with all treatment options.

However, urologists' expertise in urinary and genital functions doesn't mean that they are all experts in sexual matters. It's best to see a urologist who specializes in impotence and other sexual problems. You'll want to see a professional who regularly diagnoses and treats ED and who stays current on the latest research and treatments. An ED specialist should: 1) See 20 or more men a month, 2) Make you feel comfortable both on the phone and in the office, as should the doctor's staff, 3) Encourage your partner to be involved, 4) Offer all available options.

Your family doctor should be able to recommend an appropriate specialist. If your physician doesn't have a recommendation or you don't have a family doctor, see the resource section in the back of this book for suggestions about where to go for help.

Be Prepared

Make sure you are fully prepared for your appointment with the urologist or health care professional. Good preparation means you know your medical history, have reviewed your sexual history, and can recount the chronology of your problem. All that information will give the doctor a complete picture. Think about what you want to get out of treatment, and have a list of questions ready. If for any reason you're uncomfortable with the doctor, remember that you can find someone else.



Should You go Alone?



Some men prefer to deal with their ED alone, with no help or assistance from their partner. In fact, some see a doctor and seek medical advice without first talking about it with their partner; some men even hide the fact that they are seeking treatment. Of course, seeking treatment is most important. And you should do it in the way you feel most comfortable, whether that means seeking help by yourself or with a partner. However, a survey found that 50 percent of men with ED want their partners to go with them to the doctor. And most doctors agree that your chances of successfully treating ED are much better when you work together with your partner. This alliance can begin with a visit to the doctor.

Furthermore, in order to appropriately treat ED and nurture and strengthen a relationship, you should try to communicate openly and honestly with your partner. Open communication is the starting point for regaining sexual function. Most importantly, you need to confront any concerns you may have about your impotence problems by discussing your feelings and reassuring your partner that you still care and that she is not to blame. A sympathetic health care professional knowledgeable in both the physical and emotional impact of ED is also crucial for treatment to be successful. With teamwork between you, your partner, and your doctor and other health care professionals, you can find the treatment that works best for you and in the process become healthy and whole again.



General Considerations



Before discussing specific treatment methods, there are a few general points you need to keep in mind while considering your options:

Treatment should be individualized to the patient's and partner's desires and expectations. While it is important to determine the main cause of the problem, that doesn't automatically dictate the treatment. For example, many men have had penile implants despite the lack of evidence that medical problems were causing their ED. They simply wanted to be fixed. On the other hand, some men might want to try counseling instead.


The motivations and expectations of the man and his partner are critical in determining the appropriate treatment and evaluating its results.


Treatment works best when both partners are included.


In general, the least invasive and/or dangerous procedures should be used first.


Psychological therapy is useful with all forms of treatment of ED, even when the causes are strictly physical, and counseling works best when both partners are involved.


The patient and his partner should be well-informed by their health care professional about all treatment options, including their effectiveness, side effects, and costs.


Don't be afraid to try different therapies.


If any single therapy fails, combining two or more treatments may be useful.


No matter what the treatment, long-term follow-up by a doctor is important in helping the patient adjust to the procedure. Follow-up should include careful evaluation and dropping of ineffective treatments and examination and evaluation of other options in this event.



For reasons not entirely understood, but no doubt due to the sensitive nature of ED, there is a high dropout rate in all forms of treatment of ED.
Now that you know the diagnosis for erectile dysfunction, we will begin to discuss some of the treatments. In the next section, we will begin with the simplest, non-invasive treatments.


This information is solely for informational purposes. IT IS NOT INTENDED TO PROVIDE MEDICAL ADVICE. Neither the Editors of Consumer Guide (R), Publications International, Ltd., the author nor publisher take responsibility for any possible consequences from any treatment, procedure, exercise, dietary modification, action or application of medication which results from reading or following the information contained in this information. The publication of this information does not constitute the practice of medicine, and this information does not replace the advice of your physician or other health care provider. Before undertaking any course of treatment, the reader must seek the advice of their physician or other health care provider.