The how-tos of sex haven't changed much over the ages, but our understanding of what's actually happening (and why) took off during the Renaissance. How have humanity's thoughts and beliefs about sex evolved throughout history?
Luis Davilla/Getty Images
Sex is as old as humankind, a biological imperative for propagation -- and evolution -- of the species. For instance, earliest depictions of condoms were identified in cave paintings from 15,000 B.C.E. The how-tos haven't changed much over the ages, but the collective understanding of what's actually happening and why comprises a fascinating history that rapidly accelerates during the Renaissance and onward.
Greek philosopher Aristotle (384 - 322 B.C.E.) also made major contributions to biological and reproductive theory that would hold sway until the Renaissance period. For instance, his notion that conception originates solely from male seed, implanted into an otherwise dormant female body dominated reproductive discourse for centuries after his death.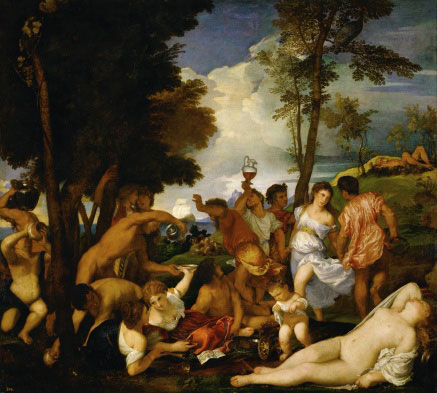 The ancient Romans weren't averse to a good time. Festivals and celebrations held in honor of Bacchus, the god of wine, attracted such a bawdy reputation for wanton behavior that the Roman Senate outlawed the free-for-alls in 186 B.C.E.
Although known in pop culture today as a collection of mind-boggling sexual positions, the third century Kama Sutra was about more than bedroom acrobatics. Written in northern India by Vatsyayana, a philosopher and self-reported celibate monk, the entire work was intended as a guide to good and pleasurable living.
The Middle Ages, complete with the Black Death and lackluster sanitation, weren't exactly the sexiest times to be alive. Meanwhile, the European church's powerful influence clamped down on extramarital sexual activity, and marriages became a religious ceremony overseen by priests.
Marking perhaps one of the most unpleasant anniversaries in human sexual health, syphilis sprang up for the first time among soldiers skirmishing over France and Naples in 1494. Due to that geography, the fast-spreading scourge became known as the "French Disease," later sparking strict regulations against prostitution in an effort to squelch it.
Hulton Archive/Getty Images
Although Johann Gutenberg first experimented with reproducing the Bible on his revolutionary moveable type printing press, his 1430s invention also paved the way for much more scandalous literature. In the mid-1670s, second Earl of Rochester John Wilmot published the naughty play "Sodom," considered the first printed piece of pornography.
When Anton Leeuwenhoek took a peek at his own semen sample with a microscope he built in 1677, he discovered a veritable party in his pants. He posited that the swarms of spermatozoa were what gave seminal fluid its potency, but the Royal Society of scientists didn't buy it. They thought Leeuwenhoek was merely looking at a pool of parasites.
Hulton Archive/Getty Images
The Industrial Revolution from 1760 to 1850 was a major turning point not only for commerce, but also for sex and marriage. With men and women moving from agrarian homesteads into cities, courtship became more about physical and interpersonal attraction than land alliances.
Exactly 150 years after Anton Leeuwenhoek stumbled upon sperm, embryologist Dr. Karl Ernst von Baer follows up with the discovery of the mammalian female egg. The Prussian-Estonian doctor didn't find it in a woman, however, but his teacher's dog.
Medioimages/Photodisc/Getty Images
The terms "heterosexual" and "homosexual" didn't come about as a part of scientific parlance, but rather trace back to the early roots of gay rights. In 1886, an unnamed Prussian activist coined them to speak out against anti-sodomy laws that were being introduced to the penal code.
Densey Clyne/Getty Images
More than 2,000 years after Aristotle asserted that men were the real reproductive powerhouses, Dr. Martin Barry reported finding sperm inside the egg. Barry's discovery arguably paved the way for the idea that human conception occurs when sperm fertilizes an egg.
Flickr Creative Commons/Marcin Wichary
In the 1880s, electrical advances opened the door to a cure for female hysteria, initially described by Hippocrates way back when in 450 B.C.E. The vibrator was first employed as a medical tool to treat women complaining of anxiety, insomnia, excessive sexual fantasy and other symptoms, and in 1902, Hamilton Beach filed the first patent for the electromechanical device.
Michael Matisse/Getty Images
In 1882, Dr. Wilhelm Mensinga invented the diaphragm. Since the plastic cup fits over the cervical opening, gynecologists have to prescribe the proper fit, deterring female patients during an era of sexual restrictiveness. In fact, leading up to the development of the birth control pill, the diaphragm was the most effective form of female contraception in the United States, but women not wanting to request one from their doctors opted to douche instead.
In 1886, Austrian psychoanalyst Sigmund Freud opened his private practice in Vienna. His theories of sexuality would become bedrocks of psychoanalytic thought in the 20th century, effectively rendering everyone's misspeaking to internal deviance, a la the Freudian slip, along with popularizing the notion of penis envy, Oedipal complexes, and the dichotomy of the id and ego.
Genetics isn't the sexiest science, but it's nevertheless a major building block of who people are and how they're attracted to others. In 1905, while studying mealworms, Nettie B. Stevens postulated that biological sex is dictated by X and Y chromosomes. However, contemporary scientists were skeptical of Stevens' chromosomal theory of inheritance, though she was posthumously proved correct.
Hulton Archive/Getty Images
In 1916, Margaret Sanger opens the first birth control clinic in Brooklyn, New York. Ten days later, police raid it and shut down operations. Sanger received a month of jail time under the Comstock Laws, which banned contraceptives and forbid family planning literature from circulating through the mail. In 1938, Sanger went to court yet again, and the judge ruled in favor of decriminalizing birth control, dissolving the repressive Comstock statutes.
Although men have been using condom-like coverings made of animal skin, horn and cloth for millennia, Frederick Killian ushered condoms into modernity in 1919. Instead of manufacturing them from rubber (hence the condom nickname "rubbers"), Killian molded his from liquid latex, a thinner, more durable material.
Dorling Kindersley/Getty Images
It wasn't until the 1920s that scientists were able to track the women's monthly fertility cycle. Based on that revolutionary information, Japanese and Australian scientists devised the "rhythm method" of pregnancy prevention, sans birth control or prophylactic devices. In 2007, a controversial German study found that a rhythm derivative called the "symptom-thermal method" was as effective as birth control pills at preventing unwanted pregnancies.
Hulton Archive/Getty Images
In 1947, Indiana University opened up its Institute for Sex Research, home to the famed sexologist Alfred Kinsey. The following year, Kinsey published the seminal "Sexual Behavior in the Human Male," which elicited both criticism and moral outcry as well as phenomenal sales. Based on data from 5,300 white males, the book offered shocking statistics, including that 50 percent of married men had cheated, and 10 percent of men were predominantly homosexual.
German gynecologist Ernest Gräfenberg likely didn't know that he would be posthumously immortalized in women's magazines in posterity. Namesake of the "G Spot," Ernest Gräfenberg published the 1950 study "The role of the urethra in female orgasm" in the International Journal of Sexology about the existence of the female prostate, aka G Spot.
Central Press/Getty Images
Although the era of free love didn't arrive until the following decade, magazine magnate Hugh Hefner undoubtedly had a hand with pushing sex into the mainstream. In 1953, he published the first edition of "Playboy" from his Chicago apartment, and racked up nearly 1 million subscribers within five years.
Hulton Archive/Getty Images
On May 11, 1960, the U.S. Food and Drug Administration approved the first birth control pill, Enovid, for sale. However, some states and doctor's offices blocked unmarried women from obtaining prescriptions. In 1972, the U.S. Supreme Court ruled such state bans unconstitutional.
John Chiasson/Getty Images
Alfred Kinsey might've gathered more than 10,000 surveys on sexual experience from men and women, but William H. Masters and his research assistant Virginia Masters actually witnessed the activity in person. Based on their exhaustive collection of data on the physiology of the male and female orgasm, they published "Human Sexual Response" in 1966.
The back-to-back publications of "Our Bodies Ourselves" and "The Joy of Sex" in 1971 and 1972, respectively, reflected American society's growing openness with sex. Both quickly climbed the bestseller charts, urging readers to become more comfortable with their sexuality and sexual expressions, and emphasizing pleasure over reproduction.
Brendan Hoffman/Getty Images
On the heels of its 1972 decision to overturn state bans on birth control to unmarried women, the U.S. Supreme Court declared state-level abortion restrictions in violation of the 14th Amendment, which protects people's right to privacy. The class-action suit was initially brought to a Texas court by Roe, a single pregnant woman denied access to an abortion based on state criminal law.
In 1981, an unusually high number of aggressive cancers and infections reported among gay male patients in California and New York, caught the attention of the Centers for Disease Control and Prevention (CDC). In the following months, the CDC researchers had identified common symptoms and began to identify it as acquired immunodeficiency disease, or AIDs.
Chris Hondros/Getty Images
In 1998, the U.S. Food and Drug Administration approved the sale of sildenafil citrate, better known as Viagra. The little blue pills were originally being developed by pharmaceutical company Pfizer to treat hypertension in males – with quite an unexpected side effect. By 2003, U.S. sales of the sexy drug had topped $1 billion.
In 2000, the Netherlands became the first country to legalize gay marriage. Their civil marriage statute now reads, "A marriage can be contracted by two people of different or the same sex." Belgium followed suit in 2003. For more information about sex, check out this list Love in the Lab: Top 5 Historical Discoveries About Sex