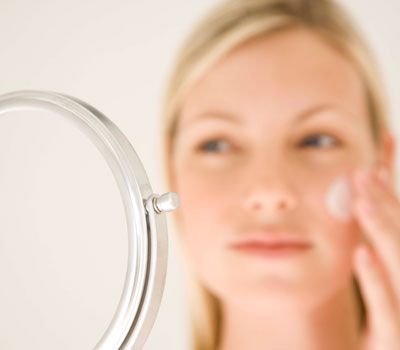 Before throwing on the entire contents of your makeup bag, look at makeup for what it really is -- a tool to enhance your best features. Less is more! This makeup tips image gallery will help you steer clear of major cosmetic don'ts while helping you find what works best for your personal beauty. First: Anchor your skin by moisturizing your face. Moisturizers are built for a variety of skin types and seal in your skin's natural oils. This is crucial for sensitive areas around your eyes where skin is the thinnest. Want your makeup to stay put all day? We'll talk primer next.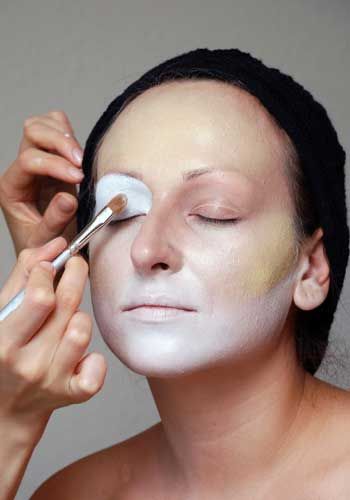 iStockphoto.com/Tatyana Aleksandrova
Makeup primer is a secret weapon in the stage makeup realm, but it can be used on anyone to keep makeup in place throughout the day. These cremes and gels can also fill in wrinkles or lines to create an ideal blank canvas for your makeup masterpieces. Up next: foundation.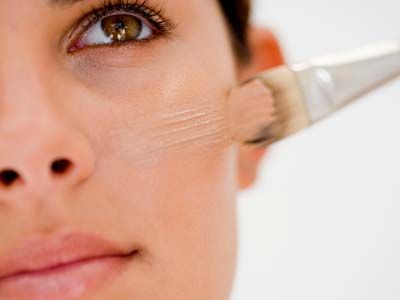 Foundation is a woman's best friend, creating a flawless skin tone. But finding the exact color to match to your skin can be difficult. While shopping for foundation, try to look at the product in natural light. Often, artificial light can lead you to the wrong color. Also, remember to evenly blend foundation around the jaw line to prevent the appearance of an artificial mask. So what's the difference between foundation and concealer? Click onward to find out.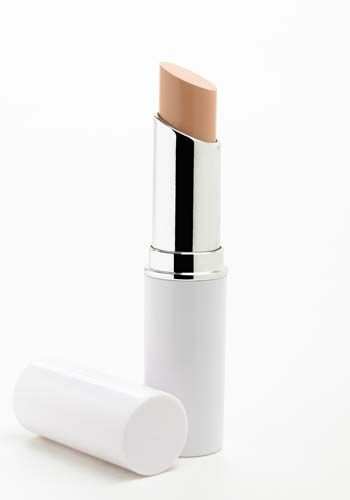 Concealer is a lot thicker than foundation, and for good reason. Its job is to conceal blemishes and pimples. A good rule of thumb is to use just enough for the concealer to remain concealed -- as in, it shouldn't be so caked on that it's more obvious than a blemish would be. Like foundation, you can have different shades on hand for blending since skin tones change with weather and the seasons. Plus, different blemishes and pimples call for different concealer tones. Next, we'll look at how to keep your foundation fresh all day.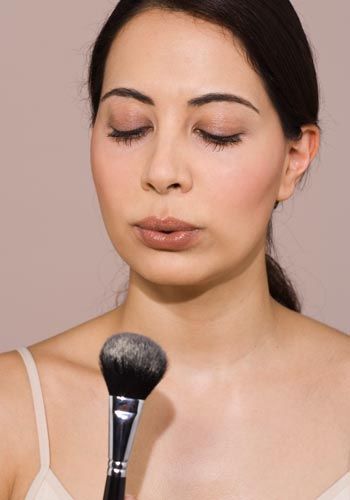 Keeping your makeup fresh-looking is quite the challenge. Using translucent powder is an easy way to maintain the vibrancy your skin started the day with. It comes in loose or pressed powder -- whichever you prefer. To prevent an unnatural look, be sure to shake or blow off excess powder from the applicator or brush. You can use a small amount for your entire face, or you can spot-powder an area that's oily. When it comes to applying blush, are you a beauty queen or a clown? Check out how to avoid looking like the latter on the next page.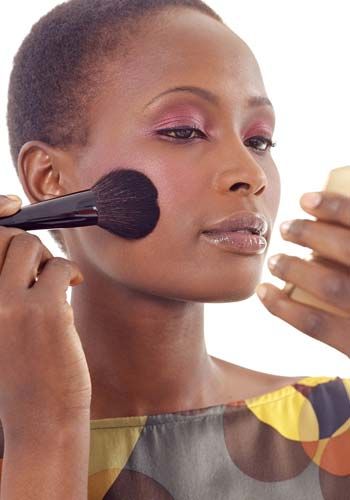 Digital Vision/Thinkstock
Blush can be your best friend or worst enemy. A common mistake is using too much blush or applying it to unnatural areas of your face. The good thing is that a makeup sponge can save the day by smoothing away any excess. Don't know which blush shade suits you best? You can gently pinch your cheek in front of the mirror to see what shades you flush naturally. As seen in this photo, blush is best applied with a brush in upward strokes, sweeping up and across your cheekbone. Read tips on how to look sun-kissed even in mid-winter on the next page.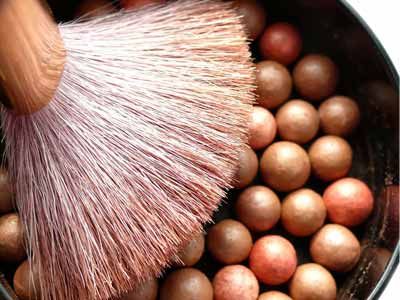 With more cases of skin cancer from sun exposure on the rise, using bronzer to give yourself a healthy glow is smarter than frequent tanning. Where exactly to apply bronzer is where most people fall astray. Think about where you normally get the most sun when you're outside: across the bridge of your nose, forehead and hairline, cheekbones and chin. Next, we'll look at tips for applying eye shadow.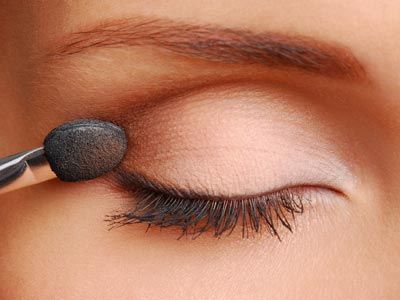 Like other makeup, you want your eye shadow to work with your best features. Matching your shadow exactly with your outfit for the day isn't the most flattering. Use hues that work with your eye color instead. You can play with darker colors around the outer crease of your eye, but it's safer to stick with lighter ones near your inner eye. Want to create smoky eyes for a night out? Come on over to the next page.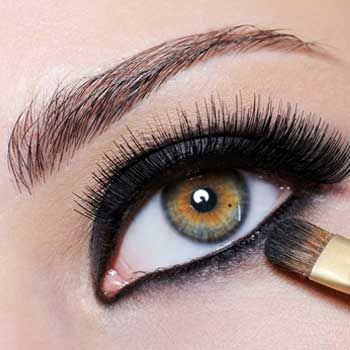 Celebrities aren't the only ones who can sport smoky eyes. With the right tools and patience, you can make your eye makeup stand out of the crowd. Tips to remember: It's important to blend in eye shadows in carefully. For a subtle look, using smaller precision brushes may be helpful, especially below the bottom eyelid. Smoky eyes also require detailed use of eyeliner and mascara. Whatever you do, don't be afraid to use a cotton swab to remove excess. Confused as to how to apply eyeliner? Keep reading on the next page.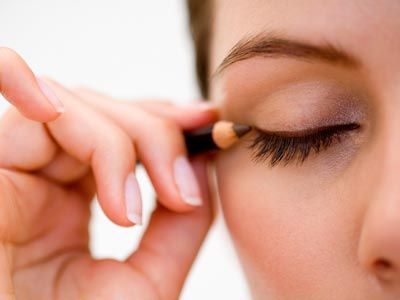 Finding the right color and type of eyeliner depends on your natural features. If you have lighter features, try a brown or brown-black liner to attract more attention to your eyes. Pencil and liquid eyeliners apply differently, but generally, you should try to smoothly apply the liner close to your upper eyelid. For the bottom, be careful not to apply the liner into your eye -- just the outer portion will do! We'll discuss another important eye makeup tip on the next page.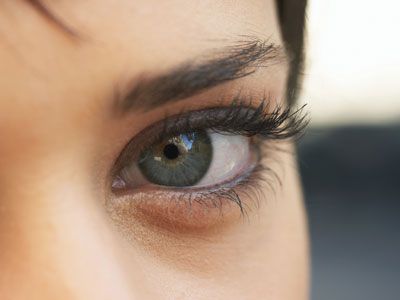 Maria Teijeiro/Thinkstock
Ignoring this next tip may make you cry -- well, sort of. You want to avoid accidentally applying eye liner or any other makeup to your tear duct. This will help you avoid blockage and a potentially painful infection. Sharing makeup with your friends isn't a good idea either -- unless you want pink eye. We'll give you the latest tips for envious eyelashes next.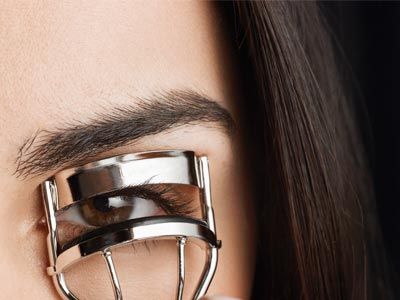 Christopher Robbins/Thinkstock
If you decide you want a dramatic curl to your lashes, use an eyelash curler after applying eyeshadow and liner, but before mascara. Though these contraptions look complicated, they're really not. Just place your upper lashes between the lips of the curler, gently squeeze the lips together and hold for 5 seconds. Try to get close to your upper eyelid, but be careful not to pinch yourself. If you want an even more dramatic look, how about applying new lashes altogether? Tips for applying false eyelashes are next.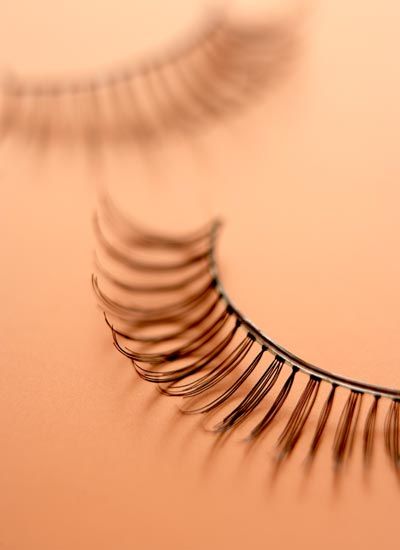 First off, you'll have to do a bit of research before becoming a false lash whiz. You'll need clean tweezers and eyelash glue to apply false lashes. Pick up the lashes with tweezers and add a small amount of glue to the bottom tip. Gently use the tweezers to place the lash where you want. Softly press and hold for 5 to 10 seconds or however long the glue states. Get ready to don your best lashes with these next tips.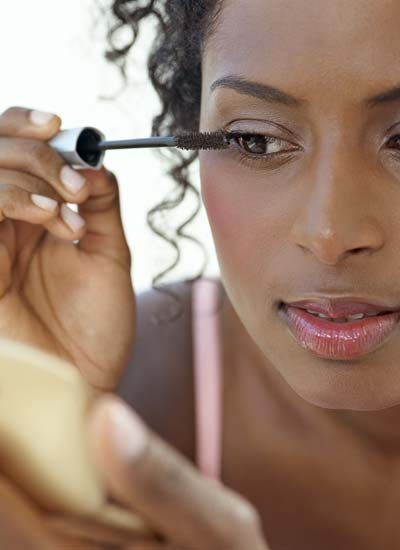 Digital Vision/Thinkstock
In the mascara department, taking your time is a good thing. Applying mascara in slow long strokes rather than quick, short ones will prevent the clumpy lashes everyone dreads. If you want to further avoid clumps, give up quickly pumping your mascara applicator in its tube -- this pushes in air and can cause more clumping as the mascara dries up. Next we'll cross the line into lip care. First up: how to use lip liner.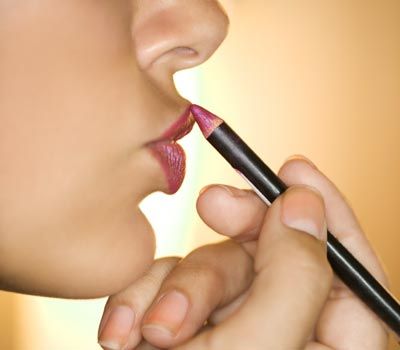 Want to give your lips a more polished look? Try using a lip pencil to subtly outline or shade in your color of choice. Using lip pencils and lip liner is also a quick tool for anchoring lipstick to keep it from wandering above your lip line. Learn more about lip makeup on the next page.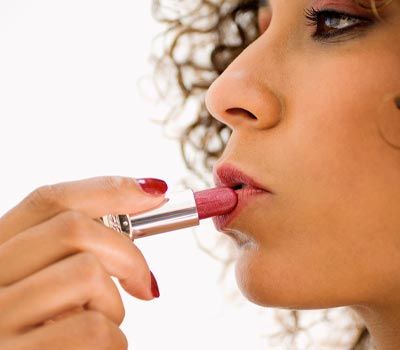 Since our lips have very little melanin to help shield harmful UV rays, consider adding a SPF balm to your lip regimen. Skin experts say more opaque lipstick is better than nothing in shielding your lips, but it's only partially effective. Shiny and shimmery lip gloss may actually cause more harm than good by attracting UV rays. Try wearing balm with an SPF of 15 or higher underneath lipstick if you know you'll be outside during the day. More lipstick brands are adding SPF protection to their products, too. Go to the next page for tips on keeping your face healthy after a day of being covered in makeup.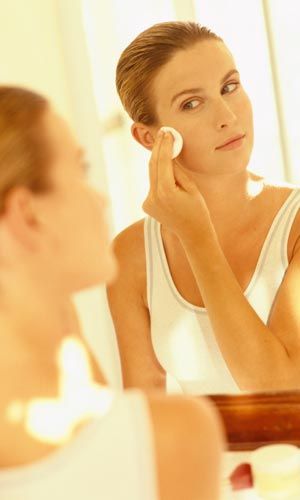 Taking off your makeup at the end of the day not only allows your skin to breathe and rejuvenate, it usually makes you feel better. But wiping all the products off your face can be abrasive to your skin. Makeup removers are your safest bet for ridding yourself of makeup layers added throughout the day. First, determine whether you're using any waterproof makeup, which often requires special removers. Secondly, look into buying remover specifically for your eyes since regular remover may cause your eyes to dry out. But what if you notice your eyebrows need a makeover after your daily rinse? Read tips for plucking on the next page.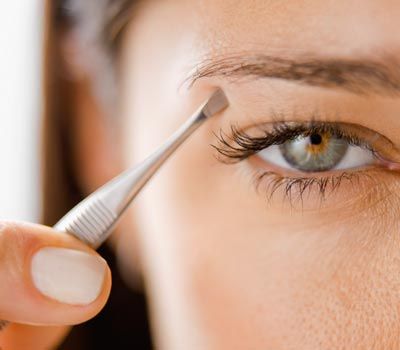 Creatas Images/Thinkstock
For shapely brows, first think about how your brows are unique to your face by taking a pencil, or another straight object, and aligning one end around the edge of your nostril. Wherever the other end meets your brow bone is where your eyebrows should start. Also, washing your face with warm water will help open up your pores, making plucking easier and less painful. Plucking straggling hairs in the direction they're growing is a smart idea, too. Next, we'll look at ways to make your makeup products live to their full potential.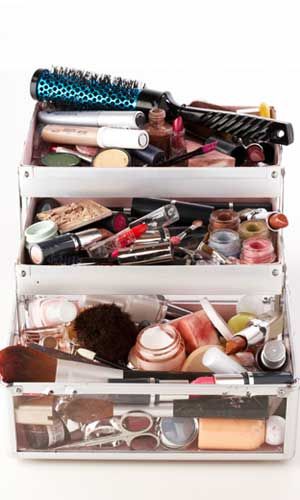 Storing your makeup in the right conditions isn't easy, especially when you're on the go. Some makeup contains preservatives to help curtail bacteria growth, but it's still important for your beauty products to be stored at room temperature. If you leave your makeup in places with higher temperatures (like your car in the summer), bacteria will have an easier time growing. The U.S. Food and Drug Administration suggests not to store makeup at temperatures above 85 degrees Fahrenheit (29 degrees Celsius). Moving on, we'll look at how long you should typically use certain makeup products.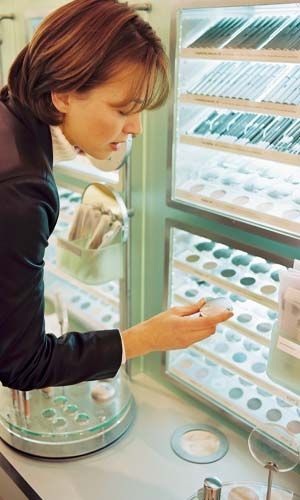 It's hard enough to toss out your favorite eyeliner once it's gone, but in some cases, you should bid farewell to your makeup products sooner. The shelf life of eye makeup in particular is relatively short. Mascaras and liquid eyeliners typically last up to three months of opening them (assuming you're storing them properly). On the other hand, facial powder, eye shadow and blush can last for almost two years if stored properly. For more information, see the Skin and Makeup Channel or take the Ultimate Makeup Quiz.