1
"What can I do for you?"
This question is the easiest or the hardest, depending on the temperament of your loved one.
Some things you can do without being asked, like manicuring mom's nails and finding dad a robe that doesn't make him feel old. Locate their favorite movies, frame old photos and decorate their room to look lived-in. Candles may not be allowed, but few people will argue against mom's favorite scented soap in the shape of a seashell.
It might be enough just for you to be there, talking to the staff, checking up on things and making conversation.
Those are the easy things. Harder are wishes for more frequent visits, or simply to go home. You may not be able to say yes. But you did what you could -- you asked.
Related Articles
Sources
American Psychological Association. "Elder Abuse and Neglect: In Search of Solutions." (June 20, 2011) http://www.apa.org/pi/aging/resources/guides/elder-abuse.aspx

Atlanta Legal Aid Society. "Handling Theft and Loss Problems in Nursing Homes." April 2011. (June 20, 2011) http://www.atlantalegalaid.org/fact9.htm

California Advocates for Nursing Home Reform. "Theft and Loss." April 1, 2009. (June 20, 2011) http://www.canhr.org/factsheets/nh_fs/html/fs_theft.htm

Delta Society. "Benefits of Animal-Assisted Activities/Therapy." (June 20, 2011) http://www.deltasociety.org/Page.aspx?pid=322

Gowan, Jenny and Louis Roller. "Elder abuse, medication reviews and the pharmacist." The Australian Journal of Pharmacy. Vol. 90. March 2009. (June 20, 2011) www.atsihealth.org/secure/downloadfile.asp?fileid=1002022

Gulliford, Martin et al. "What is continuity of care?" Journal of Health Services Research and Policy. Vol. 11, No. 4. (June 20, 2011) http://jhsrp.rsmjournals.com/cgi/content/abstract/11/4/248

Mayo Clinic. "Senior health: how to detect and prevent malnutrition." Sept 23, 2009. (June 20, 2011) http://www.mayoclinic.com/health/senior-health/HA00066

National Institute on Deafness and Other Communication Disorders. "Smell and Taste Disorders Added to NIH Web Site for Seniors." Spring 2006. (June 20, 2011) http://www.nidcd.nih.gov/health/inside/spr06/pg1.asp

Office of the United States Attorney, Western District of Missouri. "Kenyans, KC Residents Indicted in $13.1 Million Tax Fraud Conspiracy." July 19, 2007. (June 20, 2011) http://www.justice.gov/usao/mow/news2007/alexander.ind.htm

Verrecchia, Nancy Coffey, RN, BSN, CNOR. Personal interview. June 20, 2011.

Schaffer, Amanda. "Fighting Bedsores with a Team Approach." New York Times. Feb. 19, 2008. (June 20, 2011) http://www.nytimes.com/2008/02/19/health/19sore.html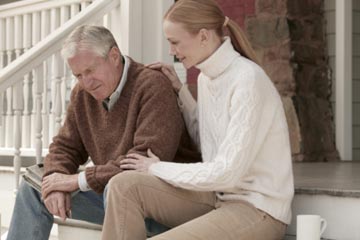 Up Next
What happens when the child becomes the parent? Being a caregiver to your parent can be a hard job. Get tips and information on when a child becomes the parent.
---