Starting up an exercise program may seem counterintuitive at first if you're worried about falling. Won't a lot of moving around increase your risk? Many elders avoid exercising because of this concern, but the opposite is true. Staying sedentary actually increases your risk, because it can lower your stamina, balance, flexibility and coordination. Even if you're already exercising regularly, you may not be doing all you can to help prevent falls. To build stamina, try low-impact cardio exercises like walking or swimming.
It's also important to incorporate exercises that require precision and concentration, such as yoga and tai chi. There are many different types of yoga for people of all ages and fitness levels, so it doesn't matter if you're not very flexible. Tai chi has also become popular with elders as a way to strengthen and increase balance. Although it's a martial art, tai chi uses graceful, slow movements. You can find programs specifically designed for first-timers, senior citizens and people with limited mobility.
Still worried? Discuss your fears with your doctor. He or she can recommend an exercise program, or a physical therapist that can design a program just for your needs. The same is true if you have mobility issues. You may be limited in what you can do to strengthen your legs or improve your balance, for example, but you can build your arm strength to help support your weight.
For more on aging and health, try the HowStuffWorks articles listed below.
Related HowStuffWorks Articles
Sources
Brown, J.S., et al. "Urinary incontinence: Does it increase risk for falls and fractures?" Journal of the American Geriatrics Society. 2000, vol. 48, no. 7.

CDC. "Falls Among Older Adults: An Overview." Centers for Disease Control and Prevention

National Center for Injury Prevention and Control (NCIPC). January 19, 2009.http://www.cdc.gov/ncipc/duip/preventadultfalls.htm

Chang, JuJu and Jim Bun. "Prevent Falls for the Elderly." Good Morning America. November 4, 2008.http://abcnews.go.com/GMA/OnCall/Story?id=6173302&page=1

Fuller, George F. "Falls in the Elderly." American Family Physician. April 1, 2000.http://www.aafp.org/afp/20000401/2159.html

Korc, Beatriz and Stephanie Stapleton. "Find the reason, then prevent the fall." American Medical News. Dec. 22, 2008.http://www.ama-assn.org/amednews/2008/12/22/hlca1222.htm

Mayo Clinic Staff. "Fall prevention: 6 ways to reduce your falling risk." Mayo Foundation for Medical Education and Research (MFMER). July 12, 2008.http://www.mayoclinic.com/health/fall-prevention/HQ00657

Tremblay, K.R. and C.E. Barber. "Preventing Falls in the Elderly." Colorado State University Extension. December 2005.http://www.ext.colostate.edu/Pubs/consumer/10242.html

TherapyTimes. "Tai Chi reduces falls in elderly." Valley Forge Publishing Group. 2009.http://www.therapytimes.com/content=5401J64C48768C841

USA Today. "Ads we can't get out of our heads." USA Today. July 22, 2007.http://www.usatoday.com/money/top25-ads.htm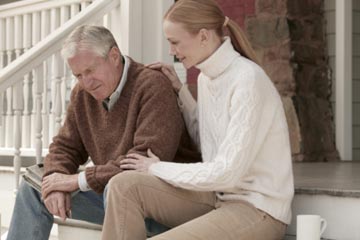 Up Next
What happens when the child becomes the parent? Being a caregiver to your parent can be a hard job. Get tips and information on when a child becomes the parent.
---