Yoga is well-known as a stress-busting workout, and many people in the workforce with financial worries during the U.S. economic downturn have taken advantage of its benefits. Here, a yoga class takes place by the ocean in Miami Beach, Fla., in 2008.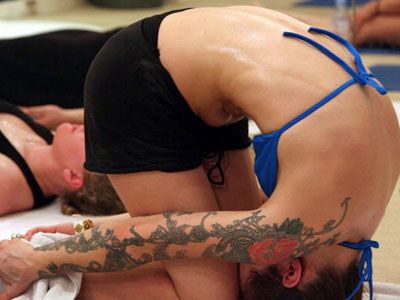 Bikram yoga, also known as hot yoga, is a style of yoga developed by Bikram Choudhury and is done in a room heated to 105 degrees Fahrenheit (40.5 degrees Celsius). The class normally involves two breathing exercises and 26 postures in a 90-minute class.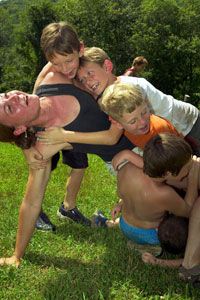 Brendan Smialowski/Getty Images
Students climb onto an instructor during a game of yoga tag at the Center for Attention and Related Disorders camp at the Great Hollow Wilderness School in New Fairfield, Conn. Kids with ADHD can benefit from the concentration and mental discipline that yoga requires.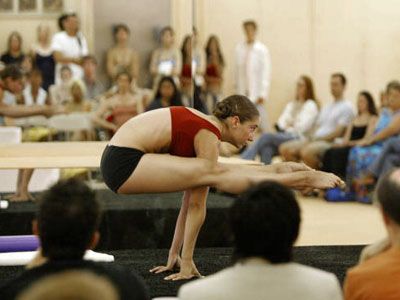 Ashley Hooper competes in the semifinal round of the 2003 International Yoga Championship-Ghosh Cup in Los Angeles.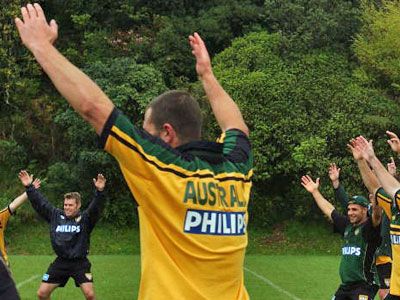 Australian players cool down with some yoga during an Australian Rugby League team training session held at Lyndhurst Oval in Wellington, New Zealand.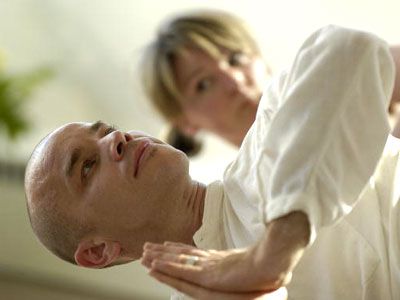 A student holds the prayer pose in a studio in Vancouver, Canada.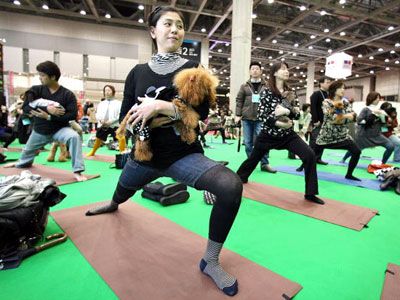 Junko Kimura/Getty Images
Owners and their dogs participate in dog yoga (sometimes called "doga") at the New Year Dog Party on Jan. 12, 2008, in Tokyo.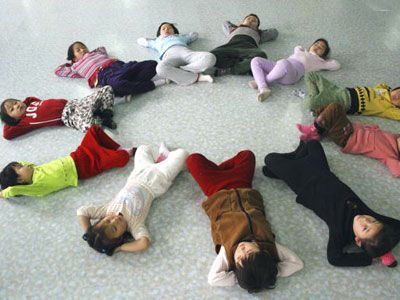 ChinaFotoPress/Getty Images
Yoga has grown in popularity in China in recent years. It is reported that children's yoga helps bone development, strengthens the immune system and protects eyes from short-sightedness.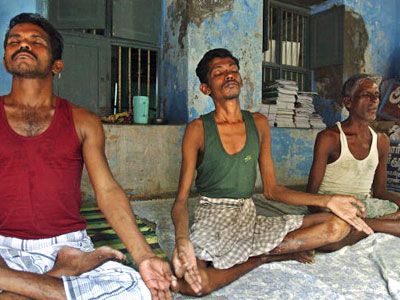 Fishermen practice yoga at an alcohol rehabilitation center in Tamil Nadu, India, in 2005. Liquor sales increased by a staggering 300 percent after the deadly Indian Ocean tsunami of 2004 hit.
Zack Seckler/Getty Images
Sarah Tomson and Hwalan E., both yoga instructors at Exhale, perform yoga during a party held to introduce a new collection of yoga wear in New York City.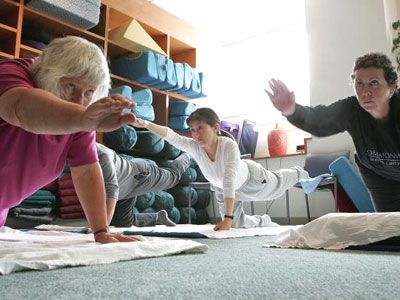 Justin Sullivan/Getty Images
A group of women participate in a yoga class geared toward cancer patients at the UCSF Comprehensive Cancer Center in San Francisco. Many cancer survivors have reported finding a sense of peace and wellness through yoga as they fought through difficult treatment.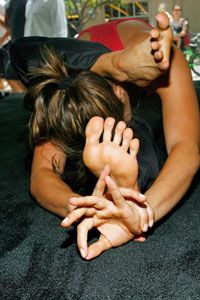 Michael Bezjian/WireImage/Getty Images
Celebrity yogini Rainbeau Mars at an Adidas event to promote her yoga wear line in Santa Monica, Calif.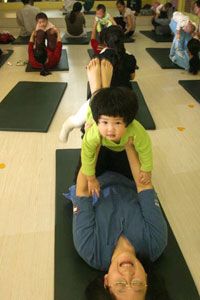 Li Hua/ChinaFotoPress/Getty Images
Parents learn yoga with their babies in Xiamen, China.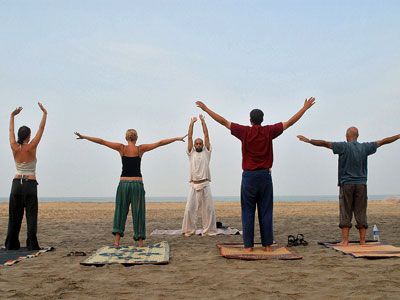 Foreign tourists and travelers learn yoga on the beach in Goa, India. The tiny Indian state became known as a hippie heaven in the 1960s and its beaches have hosted all-night parties for adventurous backpacking tourists ever since.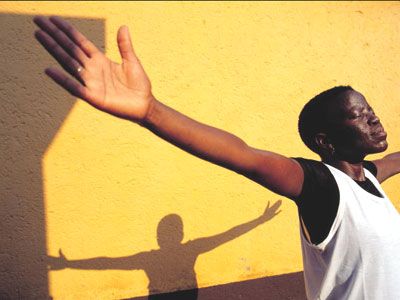 Brent Stirton/Getty Images
An AIDS survivor practices yoga in Soweto, South Africa.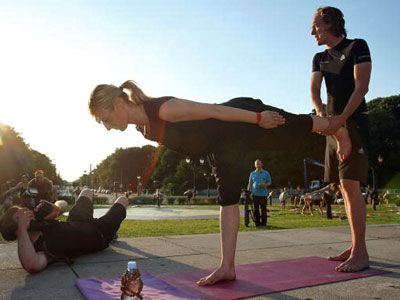 German-American yoga guru Patrick Broome, who is also the yoga coach for the German national football team, leads yoga enthusiasts taking part in the Urban Yoga Kick-Off in Tiergarten Park in Berlin. The event was meant to promote yoga for busy, stressed-out urbanites. To explore more yoga content, check out the Yoga for Dogs Video.