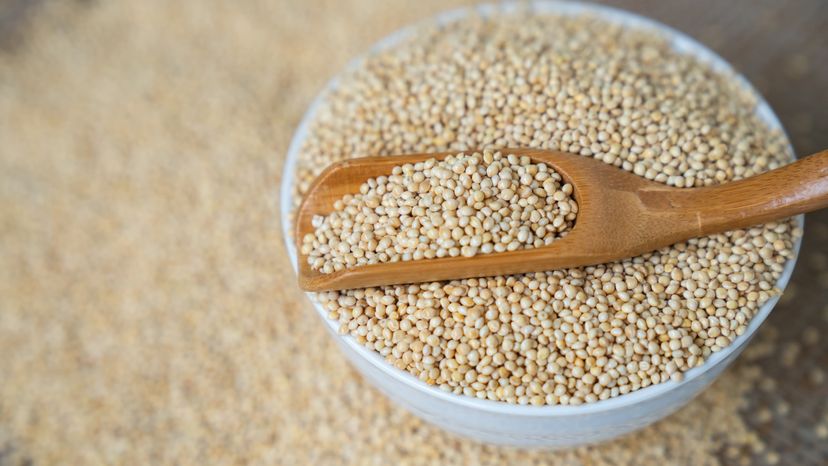 Millet is one of those foods vegetarians love, because it is rich both in fiber, which makes your stomach feel full longer, and in protein, which helps you meet your daily protein needs from a complex carbohydrate rather than animal sources. And studies have shown a direct link between cutting back on meat and natural weight loss.
In the United States, millet is used mainly for fodder and birdseed, but this nutritious grain is a staple in the diets of a large portion of the world's population, including Africa and Asia. It has been cultivated for about 6,000 years. There are several varieties of millet available throughout the world. In Ethiopia, it is used to make porridge; in India, to make roti (a traditional bread); and in the Caribbean, it is cooked with peas and beans.
Health Benefits
Millet is a remarkable source of protein, making it perfect for vegetarian diets. It's also a good source of niacin, copper, and manganese. You may want to give millet a try if you are allergic to wheat.
Millet is considered a whole grain and as such is rich in fiber and phytonutrients. Some researchers believe that it's the combination of phytonutrients and fiber that's responsible for the lower rate of colon cancer, rather than fiber alone, which doesn't appear to decrease colon cancer. One of the phytonutrients abundant in millet is called lignan. This phytonutrient may help prevent hormone-related cancers such as breast cancer and also help diminish the risk of heart disease.
Eating millet is also a good way to get magnesium and the B vitamin called niacin. Magnesium helps to relax the muscles that line the inside of your arteries, so it may reduce blood pressure. Magnesium is also suspected of being helpful for asthmatics and people who suffer migraine headache. Niacin may help keep blood cholesterol levels in check.