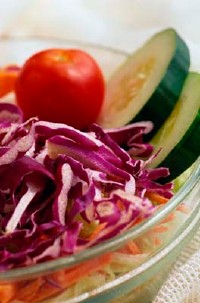 Dietary therapy is one
common form of
traditional Chinese
medical treatment.
Once practitioners of traditional Chinese medicine make a diagnosis, they have the following options available to treat their patients: acupuncture, herbal medicine, moxibustion, cupping, exercise therapy, massage techniques, and dietary therapy.
The most common therapeutic modalities are acupuncture and herbal medicine, which have such a wide range of applications, they are appropriate for most conditions.
Moxibustion (the application of heat to acupuncture points or injured areas) is also widely used, while cupping (the application of suction cups to remove stagnation from an area) is often employed as an adjunct therapy for pain and stagnation.
A traditional massage technique known as tui na has a profound effect on the musculoskeletal system. The Chinese also practice sophisticated forms of exercise, or movement, therapy known as qi gong and tai qi, which direct healing qi to specific areas of the body.
Finally, dietary therapy is an important aspect of all healing systems, and Chinese medicine is no exception. Foods are grouped according to the organ systems they affect and whether they are hot or cold, damp or dry, yin or yang. Practitioners often advise patients about which foods to eat and which to avoid for their particular imbalance.

Learn more about moxibustion, one of the most widely used of the traditional Chinese medical treatments, in the next section of this article.

For more about traditional Chinese medicine, treatments, cures, beliefs, and other interesting topics, see:

This information is solely for informational purposes. IT IS NOT INTENDED TO PROVIDE MEDICAL ADVICE. Neither the Editors of Consumer Guide (R), Publications International, Ltd., the author nor publisher take responsibility for any possible consequences from any treatment, procedure, exercise, dietary modification, action or application of medication which results from reading or following the information contained in this information. The publication of this information does not constitute the practice of medicine, and this information does not replace the advice of your physician or other health care provider. Before undertaking any course of treatment, the reader must seek the advice of their physician or other health care provider.
Advertisement