What will your New Year's resolution be for the coming year? Will you even make one? This year, instead of promising to lose weight -- again -- make a commitment to yourself.
Resolution: a new you.
Whether it's reforming bad habits or being a better friend, we have 10 suggestions to help set you on the path to a life transformation. Read on...
One in four Americans is obese, according to a recent study published by the Centers for Disease Control and Prevention (CDC). Tired of being part of that statistic? Do something about it. Don't think of it as going on a diet. Instead think of losing weight -- and keeping it off -- as a healthy lifestyle.
According to a study published in a July 2007 edition of the "New England Journal of Medicine," 66 percent of American adults are overweight, a number that has increased by 23 to 31 percent in recent years. Carrying extra weight significantly increases the risk of heart disease, diabetes, stroke, high blood pressure and cancer. Lose even a modest number of pounds -- as little as 5 percent of your total body weight -- and you'll start to see health benefits including lower blood pressure, cholesterol levels and blood sugars.
While there isn't a secret to losing weight and keeping it off, making a commitment to do so and setting realistic goals is a good way to start. According to the CDC, people who lost one to two pounds per week were the most successful in maintaining their weight loss over the long term, and almost six out of 10 people who have lost substantial amounts of weight kept the weight off more than a year.
Did You Know?
On average, we're all prone to gaining approximately two pounds each year. Eating one less cookie a day will prevent you from packing on those extra pounds.
What's the old adage, a cluttered desk is a sign of a cluttered mind? With three steps -- we'd like to call them short and sweet, but we all know room organization is never short or sweet -- you'll be on your way to clutter-free surroundings.
Have a plan -- Before you unload everything from your bedroom closet, take a few minutes to make a plan. First figure out what you're trying to accomplish. Are you trying to get organized? This can be solved by installing closet systems and using baskets and organizers. Or, are you trying to eliminate clutter? The big solution for this is simply to get rid of stuff.
Set a realistic goal -- Start by making a list of areas you want to address -- and be realistic. No one is going to judge you for not taking on the Herculean task of de-cluttering and organizing your house from basement to attic over one weekend. Look around -- what will give you the biggest impact but cost you the least time? Choosing a small task that can be finished in a relatively short amount of time, such as organizing the pantry, is a great way to begin. Small successes will motivate you to tackle the bigger areas later.
Make a date -- Despite good planning and goal setting, clutter isn't going to clear itself. Make a date with yourself and put it on your calendar.
Did You Know?
According to the Institute of Living Anxiety Disorders Center at the Hartford Hospital, compulsive hoarding, a mental health disorder characterized by accumulation of excessive clutter, may affect up to 2 million Americans.
What's your favorite vice? Alcohol, coffee, cigarettes, or maybe the container of chocolate chip cookies beckoning from the kitchen? We know they're bad for us, but oh, the cravings.
We love our vices because they often make us feel good and they are part of our daily routine. Curbing just two -- such as coffee and cigarettes -- will garner you healthy benefits. Here's what you can expect from curbing caffeine and nicotine:
The National Coffee Association reports that an average American consumes more than three cups of coffee every day. While caffeine hasn't been linked to cancer risk, drinking more than four cups of caffeinated beverages a day may raise your risk of heart problems. Caffeine addicts are also at risk for osteoporosis, high blood pressure, digestive problems and, to no one's surprise, sleep problems. Kick the habit and kick these potential problems to the curb.

Becoming a former smoker makes a difference. By stopping smoking, former smokers reduce their risk of heart and lung diseases, gum disease and dental problems (including tooth loss), impotence and fertility problems as well as their incidence of cancer. Women who quit smoking lower their risk of dying from coronary heart disease by 47 percent within five years of cessation.
Of course, if you don't smoke or drink caffeinated beverages, you're bound to have a few other vices to curb. Maybe you have a sweet tooth, overspend, sleep too much or exercise too little. Whatever they are, try curbing a couple for a healthier new year.
Are you a glass half-full or glass half-empty kind of person? As it turns out, the way you approach your life not only affects your quality of life but also your life expectancy.
Researchers are beginning to identify a connection between our minds and bodies, specifically how our disposition affects our health. In 2002, Mayo Clinic researchers found that over the course of a 30-year study, which was published in "Mayo Clinic Proceedings," pessimistic patients increased their risk of death by 19 percent when compared to their expected life span.
What's unclear is how optimism causes a longer life. Researchers think that optimists may be more likely to eat well, exercise and seek medical help as needed. If looking at the glass as half-full means adding a few years to your life, what's stopping you from appreciating family, friends and all that comes your way? Nothing.
Did You Know?
Bringing a pet into your life can increase your life expectancy. A study by the Minnesota Stroke Institute found that owning a cat reduced a person's risk of suffering a heart attack by 30 percent.
Staying physically active not only helps you to maintain or lose weight but also reduces the risk for high blood pressure, type 2 diabetes, heart attack, stroke, several forms of cancer, arthritis pain, osteoporosis, and also reduces the symptoms of depression and anxiety.
You get all of that in trade for less than an hour of moderately intense aerobic activity a day. Sounds like a bargain.
While 30 minutes of daily walking is enough to prevent weight gain for most people, a Duke University study found that to lose pounds, you need to exercise beyond the 30-minute mark. For example, 45 minutes of brisk walking every day burns an extra 300 calories every day, adding up to 30 pounds of weight lost in a year -- and that's without changing your diet.
Did You Know?
You can walk your way to being physically fit. An average sedentary person takes about 2,000 to 3,000 steps a day. Aim to add 1,000 extra steps a day to shed extra weight.
6
Foster Quality Relationships
Many of us look to diet and exercise to live a long, fruitful life but you may be overlooking one important ingredient to overall good health: friendship. Whether you fancy yourself a loner or a social butterfly, spending more quality time with family and friends may help you live a longer, healthier life.
While no study pinpoints why people who keep up good relationships with their friends and relatives have longer life expectancies, having an active social network does seem to influence our survival. A 10-year Australian study, published in the "Journal of Epidemiology and Community Health," found that elderly subjects (age 70 or older) with strong social networks were roughly 40 percent more likely to still be living at the end of the study, as opposed to participants who did not maintain long-lasting relationships.
What is it about having friends that means so much? Staying tight with friends and family may help us to curb our vices -- they're the ones most likely to encourage us to stop smoking or give us a shoulder to lean on. Furthermore, researchers are noticing that our friends may also help us fight illness, recover faster and stay young.
Your body has 206 bones, 600 muscles, 22 internal organs and 100 trillion cells. Your brain contains 100 billion neurons, 900 billion glial cells, 100 trillion branches and 1,000 trillion receptors, all interlaced through a complex network. Many of us spend several hours a week at the gym exercising our bodies, but what about exercising our brains?
You might already know that exercising your brain, no matter what age you are, can help to improve your intelligence. But did you know that it can also help to prevent dementia from developing? If puzzles aren't your thing, try video games (choose those that emphasize dexterity skills) or something simple such as taking a new route to work. Consider getting both your body and brain in on the action. Dancing requires your body to move around -- physical fitness -- while your brain is forming new pathways as it learns and recalls dance steps -- mental fitness.
Your new fact for today: Take advice from real age expert Dr. Oz -- eat foods high in selenium, a mineral that could help keep your brain young. Try blueberries, a superfood that's shown to be beneficial for preventing and slowing neurological aging.
Did You Know?
According to the American Medical Association, our brain volume shrinks up to 1 percent each year after age 65.
Looking for ways to improve your health this year? Consider volunteering at a local charity or nonprofit organization.
According to a news release compiled from studies over the past two decades by the Corporation for National and Community Service, people who volunteer as a group live longer and have better health -- both mental and physical health -- than people who don't volunteer.
Volunteering gives us a sense of purpose and builds our social network, both of which help reduce our stress levels. Volunteering can also increase your self-esteem and happiness. Researchers call it the "helper's high." Helper's high is that gratifying feeling we get when we volunteer, which leads to an increased trust in other people. Researchers also found that volunteering gives us physical health benefits, including relief from chronic pain, less incidence of heart disease and greater life expectancy.
While an annual afternoon volunteering at your local soup kitchen is a great way to start, to achieve a true "helper's high," you'll need to do a little more than an afternoon's work over the course of a year. Data collected through the "Assets and Health Dynamics Among the Oldest Old Survey" found people who spent about 100 hours or more (about two hours per week) on volunteer activities with at least two (or more) organizations per year were the most likely to reap the associated health benefits.
Living a greener life may seem overwhelming. It doesn't have to be, nor does it have to be costly. In fact, it can be wallet friendly as well as environmentally friendly. We've broken it down to a few ideas beyond the recycling bin to get you started on the greener path:
Adjust the thermostat -- Dropping the temperature in your home by just 1 degree (and raising it 1 degree in the summertime) will not only reduce your energy usage but will also reduce your heating (and cooling) costs by roughly 4 percent.
Buy plants -- Bringing plants into your living space can help remove indoor air pollutants (including formaldehyde and benzene, two chemicals associated with increased cancer risks), but be sure to choose the most helpful varieties. Golden pothos, English ivy and peace lilies are popular choices for natural air purifiers.
Change your light bulbs -- The next time one of your incandescent light bulbs burns out, reach for a compact fluorescent light bulb (CFL) as its replacement. CFLs are available in a variety of light colors, and according to the U.S. Department of Energy, they use 75 percent less energy and last about 10 times longer than incandescent bulbs.
Tip:
Installing low-flow faucets in your home could reduce your water consumption and cost of heating water by about 50 percent.
To reduce the stress of money woes, you first need to learn what it takes to get into good financial shape. Two important steps that are the backbone of financial fitness are:
Take a good look at your financial situation -- Check your account balances, everything from the money in your savings, checking and retirement accounts to your debts.
Don't forget to check your credit report and FICO score, too. Your FICO score is important when you're applying for a loan or any type of credit. The higher your FICO score, the lower your interest rate will be, which can save you big bucks over the years. To improve your FICO score, keep these three things in mind: Pay bills on time, keep your credit card balances low (use less than 10 percent of the card's available credit limit), and don't open new accounts.
Create a budget -- Once you know your financial situation, you need to get a good understanding of where all your money goes. To do this, you'll need to create a budget. List all the places you're spending money, everything from the heating bill to your morning latte. A good personal finance software program can make this task easier to swallow. Bottom line -- you need to know your financial habits before you can change them.
Did You Know?
According to CardWeb.com, the average American household carries more than $8,000 of credit card debt.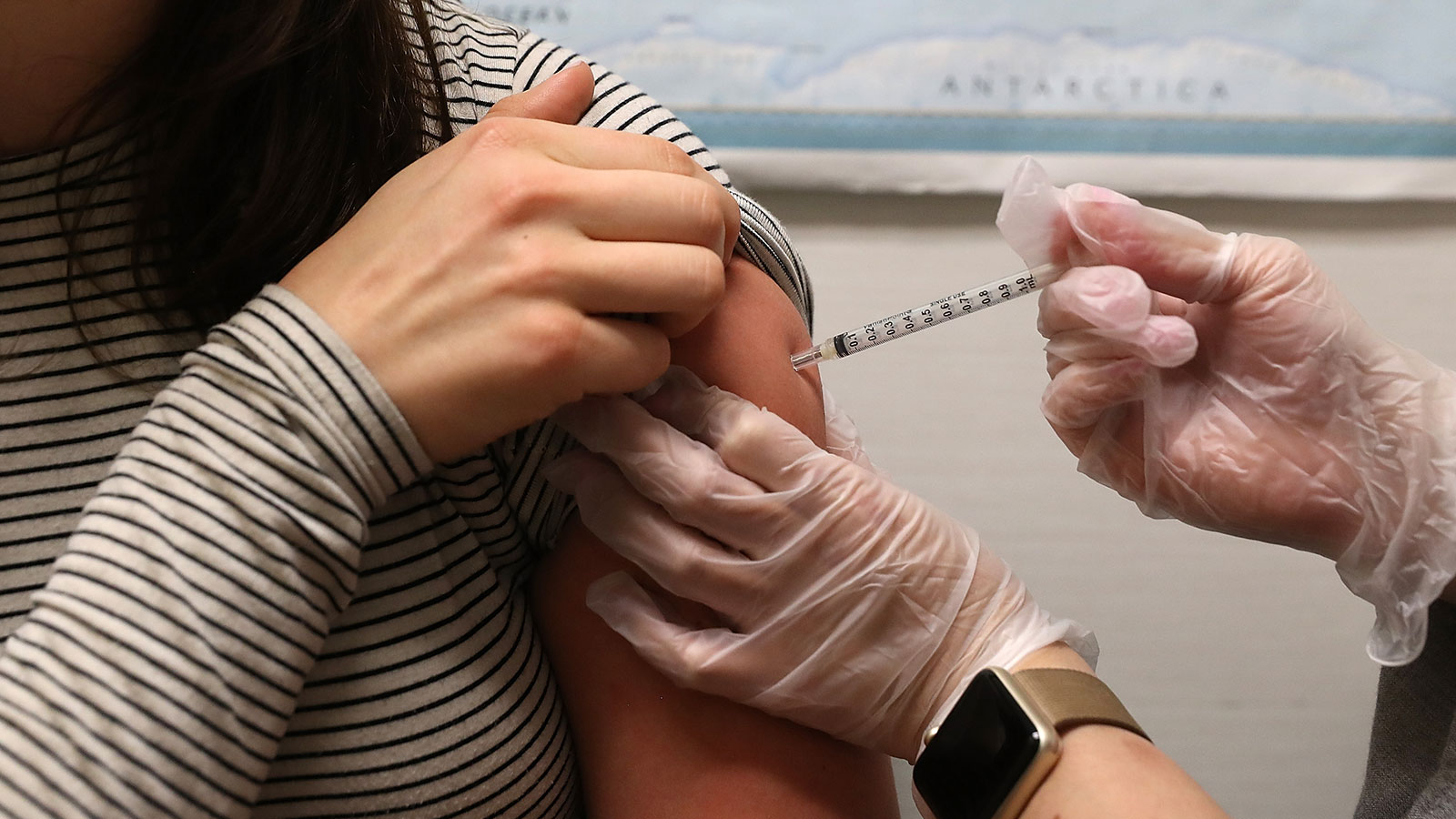 Up Next
Every year, a version of the flu vaccine must be developed, to compensate for the changes in the flu virus the year before. Will that ever end?
---
Related Articles