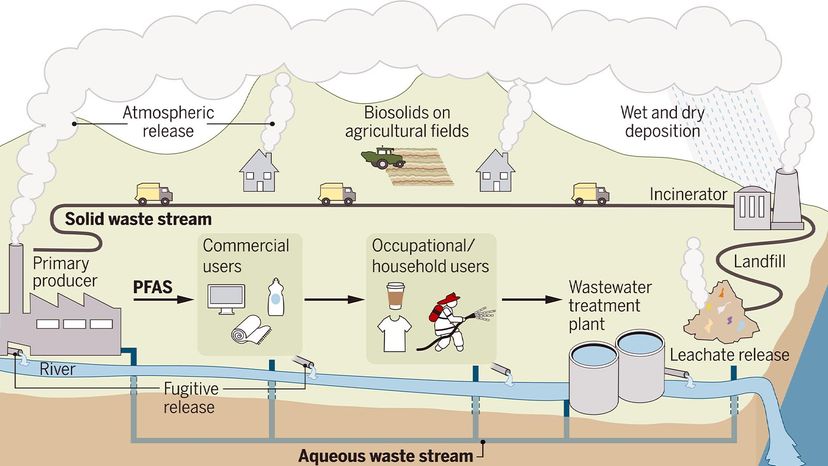 "PFAS? What's PFAS?"
You may be hearing that term in the news as the U.S. federal government considers new rules and guidelines for the chemicals. Even if the acronym is new to you, you're probably already familiar with what PFAS do. That's because they're found in everything from nonstick cookware to carpets to ski wax.
PFAS stands for per- and polyfluoroalkyl substances, which are a large group of human-made chemicals — currently estimated to be around 9,000 individual chemical compounds — that are used widely in consumer products and industry. They can make products resistant to water, grease and stains, and protect against fire.
Waterproof outdoor apparel and cosmetics, stain-resistant upholstery and carpets, food packaging that is designed to prevent liquid or grease from leaking through, and certain firefighting equipment often contain PFAS. In fact, one study determined that most products labeled "stain-" or "water-resistant" contained PFAS, and another study found that is also true among products branded as "nontoxic" or "green." PFAS are also found in unexpected places like high-performance ski and snowboard waxes, floor waxes and medical devices.
At first glance, PFAS sound pretty useful, so you might be wondering "what's the big deal?" The short answer is that PFAS are harmful to human health and the environment.
Some of the very same chemical properties that make PFAS attractive in products also mean these chemicals will persist in the environment for generations. Because of the widespread use of PFAS, these chemicals are now present in water, soil and living organisms, and can be found across almost every part of the planet, including Arctic glaciers, marine mammals, remote communities living on subsistence diets, and in 98 percent of the American public.
The Environmental Protection Agency (EPA) issued new warnings June 15, 2022, about their risk in drinking water even at very low levels.