1
Death by Unexplained Phenomenon
What exactly happened to cause the deaths of nine hikers in the Ural Mountains of Russia on Feb. 2, 1959, remains one of the country's most notorious unsolved mysteries. On Jan. 28, 10 students from the Ural Polytechnic Institute set off for some winter hiking. One member fell ill and was left behind to recuperate in a mountain settlement.
The other nine never made it out of the woods, and what investigators found was both frightening and confusing. Their abandoned tent was found ripped open from the inside, half buried in snow, with the shoes and belongings of the students still inside. The first two bodies were found at the edge of the forest, barefoot and dressed in their underwear. The next three bodies were found nearby in similar condition. Two months later, the last of the bodies were found buried in the snow about 250 feet (75 meters) from the first victims [source: sptimes.ru].
These four students had massive internal injuries, broken ribs and crushed skulls. One of them was missing her tongue. One thing that perplexed investigators was the fact that there was no sign of struggle and no external wounds. The final four victims were wearing some of the clothes of the others that were found to have high levels of radiation.
Theories have abounded over the years -- avalanche, alien interaction and military testing to name a few. Case records were sealed until 1990, when it was learned that bright orange spheres had been spotted in the sky that night by other hikers. This and the radiation on the clothes lead most people to believe that were some secret military shenanigans going on -- although the Russian government has never owned up to anything.
R­elat­e­d HowStuffWorks Articles
Sources
"Death by Wired Bras." The New York Times. Oct. 28, 1999.

"Deodorant obsession killed boy." BBC. Oct. 29, 1998.http://news.bbc.co.uk/2/hi/health/203730.stm

"DICE 09: NPD - Six Million New Gamers in Last Year." Gamasutra. Feb. 20, 2009.http://www.gamasutra.com/php-bin/news_index.php?story=22415

"Hair Apparent." TIME. July 18, 1949. http://www.time.com/time/magazine/article/0,9171,794879-2,00.html

"How Attila the Hun Died of a Nosebleed." Associated Content. Feb. 4, 2008.http://www.associatedcontent.com/article/570531/how_attila_the_hun_died_of_a_nosebleed.html?cat=37

"Peg Entwistle." Imdb.com. 2009.http://www.imdb.com/name/nm0258201/

"S Korean dies after games session." BBC. Aug. 10, 2005.http://news.bbc.co.uk/2/hi/technology/4137782.stm

"Sheep Push Woman Over Edge of Cliff." Los Angeles Times. Jan. 29, 1999.http://articles.latimes.com/1999/jan/29/news/mn-2886

"Surrey school teacher has world's longest beard." Ctvbc.ctv.ca. Nov. 14, 2008.http://www.ctvbc.ctv.ca/servlet/an/local/CTVNews/20081113/BC_world_longest_beard_081113/20081113/?hub=BritishColumbiaHome

Alfred, Randy. "Jan. 15, 1919: Morass of Molasses Mucks Up Boston." Wired.com. Jan. 15, 2009.http://www.wired.com/science/discoveries/news/2009/01/dayintech_0115

Leong, Kristie, M.D. "11 Very Strange Deaths! Bizarre Ways People Have Died!" Associated Content. July 11, 2007. http://www.associatedcontent.com/article/301128/11_very_strange_deaths_bizarre_ways.html?cat=7

Lidz, Franz. "The Paper Chase." The New York Times. Oct. 26, 2003.

Morse, Paul. "Welland man dies after being trapped in storm sewer." Thespec.com. Feb. 24, 2006.http://www.thespec.com/news/article/330908

Osadchuk, Svetlana. "Mysterious Deaths of 9 Skiers Still Unresolved." The St. Petersburg Times. Feb. 19, 2008.http://www.sptimes.ru/story/25093

Perrie, Robin. "Blood lust of killer sheep." The Sun. Feb. 19, 2002.http://www.thesun.co.uk/sol/homepage/news/article146406.ece

Spies, Kelly. "World Beard and Mustache Championships." Associated Content. June 19, 2007.

Thorhill, Ted. "World's most bizarre deaths." The Sun. Sept. 3, 2008.http://www.thesun.co.uk/sol/homepage/features/article1639113.ece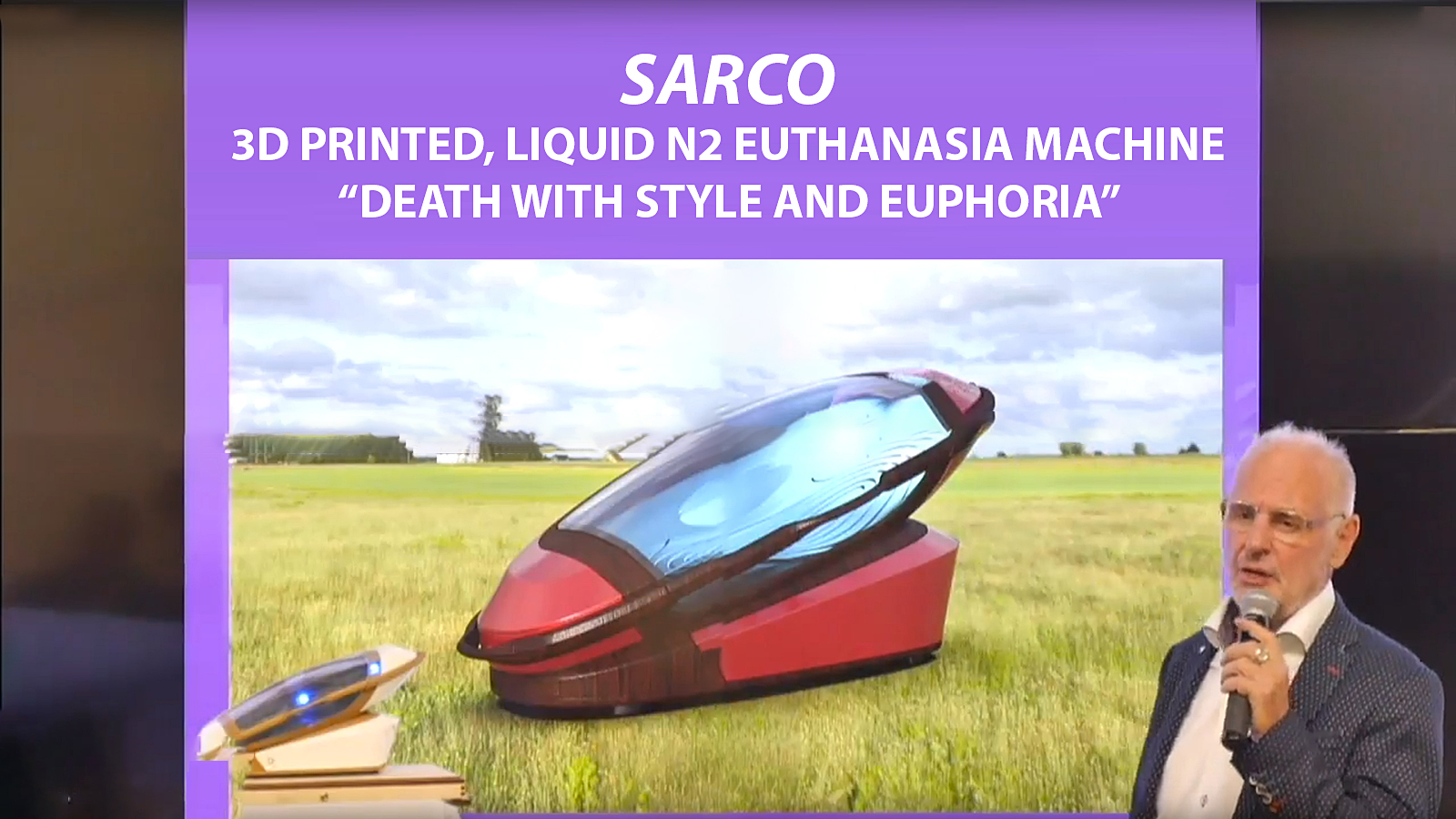 Up Next
Imagine the suicide booth on 'Futurama,' only real. Learn more about the Sarco suicide pod at HowStuffWorks.
---