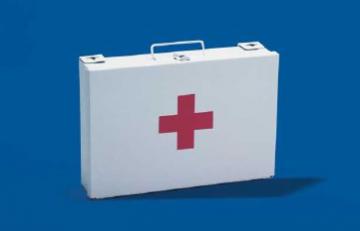 Publications International, Ltd.
Administering first aid can significantly affect a victim's chances of recovery from an emergency situation. First aid, in most cases, should be administered only while waiting for medical help to arrive and is not considered a substitute for trained medical care.

In this article you will learn the basics of first aid. You will learn breathing techniques like CPR and rescue breathing as well as the Heimlich maneuver. You will learn to treat injuries to the body, eyes, mouth and head. You will also learn what to do in cases of hypothermia, frostbite and heat-related ailments.
In most cases the first aid directions provided in this article are applicable to infants, children and adults. You'll learn what supplies you may need in case of an emergency and when to call EMS or the Poison Control Center.

This information is solely for informational purposes. IT IS NOT INTENDED TO PROVIDE MEDICAL ADVICE. Neither the Editors of Consumer Guide (R), Publications International, Ltd., the author nor publisher take responsibility for any possible consequences from any treatment, procedure, exercise, dietary modification, action or application of medication which results from reading or following the information contained in this information. The publication of this information does not constitute the practice of medicine, and this information does not replace the advice of your physician or other health care provider. Before undertaking any course of treatment, the reader must seek the advice of their physician or other health care provider.