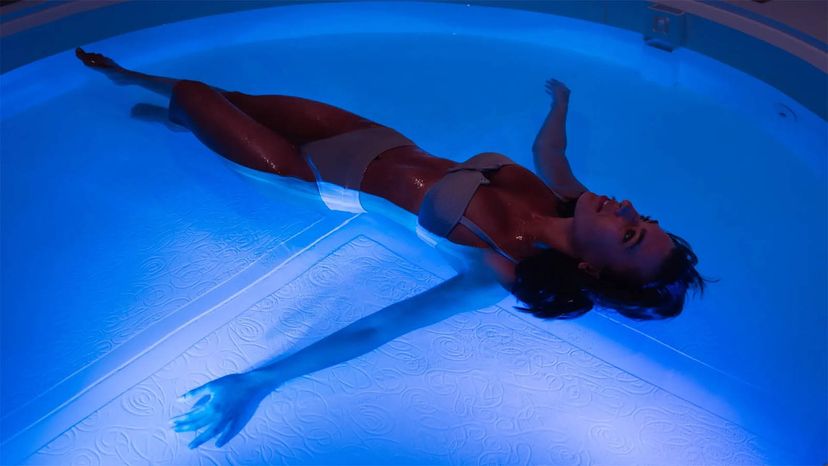 Los Angeles resident Megan Holiday was looking for a little peace and quiet. As an on-air personality at KROQ radio station and host of her own podcast, 7 Words, the busy, media-savvy DJ found a potential source of respite through some of her favorite entertainment outlets.
"I first began hearing about deprivation tanks on podcasts — Joe Rogan, Duncan Trussell Family Hour — and it was in hearing them talk about the experience that my level of interest began to peak," she writes via email. "They talked about how it was the ultimate meditation experience, a place to fully disconnect from outside stimulus and go inward. As someone who deals with anxiety on a daily basis, I use meditation as a way to cope and felt that the deprivation tank could also be a new resource for me."
Holiday isn't alone: Since the 1950s, people have been dabbling in a practice known as restricted environmental stimulation therapy (REST), a type of intervention rooted in sensory deprivation (i.e., cutting off your senses of sight, smell, hearing, etc.), often through the use of a special chamber known as a deprivation tank.
Studies have found that REST may be a useful stress-management tool, a successful treatment of addictive behaviors and a potential adjunct therapy for generalized anxiety disorder (GAD). Not to mention, even "The Simpsons" partook in the experience in the 1999 episode, "Make Room for Lisa."
If you, like me, are wildly claustrophobic and the idea of a "deprivation tank" (also known as a "sensory deprivation tank," "flotation tank" or "isolation tank") terrifies you to your core, then perhaps you've written off the therapy altogether. But there's a lot more to the nontraditional method than you may know.