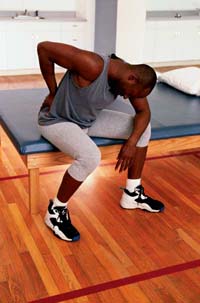 Publications International, Ltd.
Maybe you lifted something heavy or swung a golf club a little too enthusiastically. Or maybe you've been hunched over a desk or computer for two weeks, battling a deadline. Whatever the reason, now your back is "out," and you're wishing for something, anything, that will put an end to the agony.

Take heart; you're not alone. Almost every American suffers from back pain at some point in his or her life. The bad news is that unless you have a major injury or disc problem, your doctor may not be able to do much for you other than prescribe some pain medication and advise you to rest. The good news is that by following some simple steps, you can be back in the swing of things in just a few days. Even better, you can help ensure that you won't have to endure similar discomfort in the future.

In this article, you will learn all about back pain and how to relieve it over the following sections:

Emergency Back Pain Relief


After you injure your back you probably want to crawl into bed or a hot bath and close your eyes. While this might feel good immediately, the care you give your back in the first few hours after an injury can significantly affect how much pain you feel in the next few days. We will give you advice for treating a back injury, such as resting your back, icing your back, and compressing the area. We will also let you know when your back injury is so serious that you should seek a doctor's advice.


This information is solely for informational purposes. IT IS NOT INTENDED TO PROVIDE MEDICAL ADVICE. Neither the Editors of Consumer Guide (R), Publications International, Ltd., the author nor publisher take responsibility for any possible consequences from any treatment, procedure, exercise, dietary modification, action or application of medication which results from reading or following the information contained in this information. The publication of this information does not constitute the practice of medicine, and this information does not replace the advice of your physician or other health care provider. Before undertaking any course of treatment, the reader must seek the advice of their physician or other health care provider.