1
Continuing Care Retirement Communities
Can't decide which option is right for you? Are you independent now but understand that there might be a time when you're not? Are you rich? If so, then a continuing care retirement community, or CCRC, might be for you. This is the big kahuna of elder care options, if only because it encompasses all levels of housing and treatment. You could begin living in an apartment and then move to assisted living and then a nursing home as your health declines.
This option is popular because it provides peace of mind -- if you find a community you like, you'll be set for the duration of your life. However, peace of mind and long-term care are rarely cheap. CCRCs generally require one large entrance fee, which could range from $20,000 to $400,000, followed by monthly fees for the length of the stay [source: Morris]. These communities also require a good deal of advance planning, as they often only accept people who are healthy enough for some of the more independent living options. If you are looking into this option, be sure to investigate more than just that swanky apartment you'll start off in. You'll also need to investigate the nursing facilities that might be in your future as well.
For more in-depth information on these housing options and how to choose the best one, have a look at the links below.
Related HowStuffWorks Articles
Sources
"Alternatives to Nursing Home Care." Medicare. March 27, 2008. (March 9, 2009)http://www.medicare.gov/Nursing/Alternatives/Other.asp

"Choosing a Long-Term Care Option." Pioneer Network. (March 9, 2009)http://www.pioneernetwork.net/Consumers/Choosing/

Gross, Jane. "Elder-Care Costs Deplete Savings of a Generation." New York Times. Dec. 30, 2006. (March 9, 2009)http://www.nytimes.com/2006/12/30/us/30support.html?_r=1

"Housing Options for Older Adults: A Guide to Making Housing Decisions." Eldercare Locator. (March 9, 2009)http://www.eldercare.gov/Eldercare.NET/Public/Resources/fact_sheets/pdfs/Housing%20Options%20Booklet.pdf

Leland, John. "For Families of the Ailing, a Brief Chance to Relax." New York Times. August 19, 2008. (March 9, 2009)http://www.nytimes.com/2008/08/19/health/19aging.html

"Living in a Nursing Home: Myths and Realities." American Health Care Association, National Center for Assisted Living. (March 9, 2009)http://www.longtermcareliving.com/family_guide/myths/myth1.htm

Matthews, Joseph L. "Choose the Right Long-Term Care." Nolo. July 2002.

Morris, Virginia. "How to Care for Aging Parents." Workman Publishing. 2004.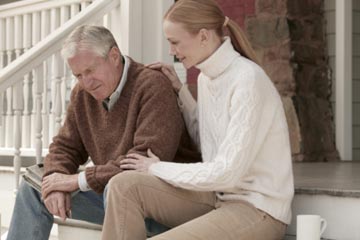 Up Next
What happens when the child becomes the parent? Being a caregiver to your parent can be a hard job. Get tips and information on when a child becomes the parent.
---