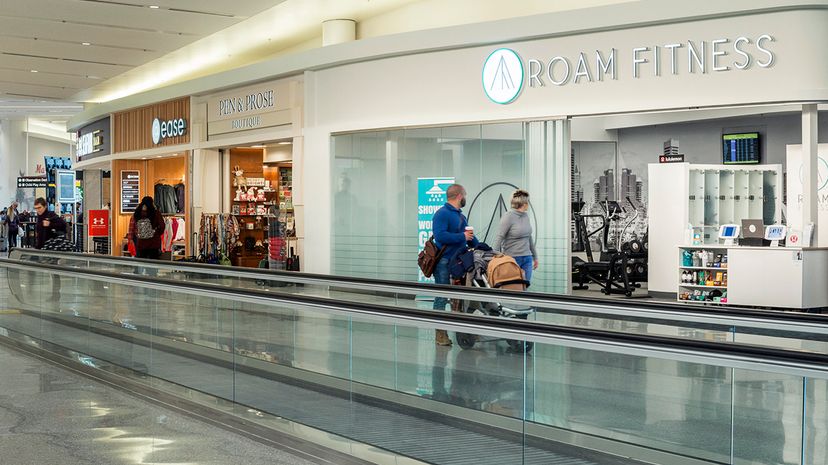 For those of us who have wasted more time in airports than we'd like to add up — "I wish I had spent a few more hours at the airport waiting on flights," said no one at any time, ever — a relatively new time-burning option is celebrating its first anniversary.
And, best news yet, this option doesn't involve wolfing down a $7 Snickers bar or sitting on your derriere at the gate, staring at your smartphone. This is actually a good use of your time.
ROAM Fitness, a private company based in health-conscious Eugene, Oregon, opened what it claims to be the only post-security fitness facility in a U.S. airport, at Baltimore/Washington International Thurgood Marshall Airport (BWI) in January 2017.
Other airports have gyms, most attached to airport hotels near or at the main terminals before airport security. And some airports have stretching and/or yoga rooms for passengers after they pass through security. Quite a few have marked walking paths to take through various concourses to get a bit of cardio in between flights.
But as far as a gym with equipment, showers and the like — ROAM will even rent you workout gear, including sneakers — this may be it, at least in the U.S. (FlyFit Global is opening what it bills as the world's first instructor-led fitness and wellness studio behind security, at London's Heathrow Airport, sometime in 2018.)
ROAM's immediate goal is simple: Helping hassled fliers lose the stress and get healthier.
"Our goal is not to be a 'gym,'" says Ty Manegold, one of the founders of ROAM. "We believe travelers shouldn't have to compromise their health." Manegold started ROAM as a graduate school project at the University of Oregon.
BWI's ROAM outlet is not a sprawling Planet Fitness or a Gold's Gym. It's a tight 1,175 square feet (109 square meters), next to a moving sidewalk that runs between concourses D and E. The space has a few cardio machines, some free weights and a small mat for stretching. Four showers must be reserved and are limited to just 15 minutes per person.
Membership costs $25 for a day pass, though monthly and yearly pricing is available for true sky warriors.
ROAM, of course, doesn't offer all the amenities of other major clubs. But for somebody looking for a quick workout while waiting on a plane, or for somebody getting off a red-eye that wants to get a workout (or shower) in before heading to that first meeting of the day, it's plenty useful. Way more than that Snickers bar.