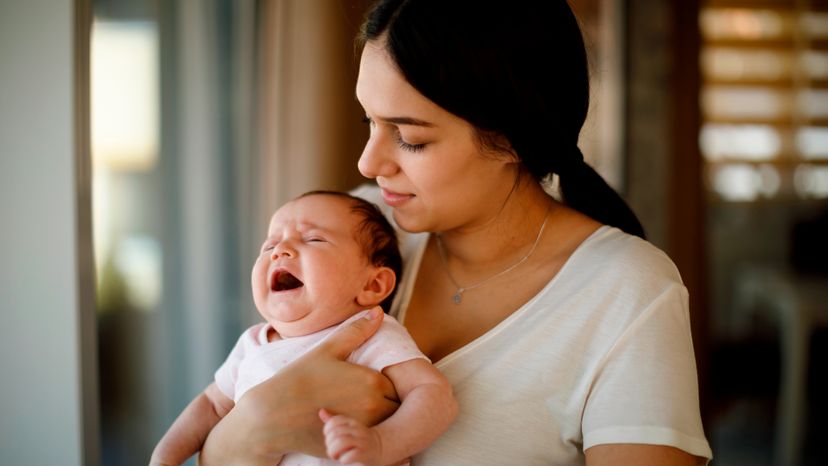 When you brought your new baby home from the hospital, he seemed so quiet, so sweet, so well-behaved. Suddenly, about two weeks after your child's arrival, Mommy's angel turned into a crying, squalling, red-faced little devil. At times, the child may have appeared to be in pain: He drew his legs up to his belly and appeared to pass gas more frequently. Perhaps you took your child to the pediatrician for a diagnosis, or maybe you were able to recognize the symptoms yourself that the demon of colic had invaded your once peaceful home. By now, you've probably reached the end of your rope. You feel frustrated and tired. You may have started to doubt your ability to parent your child properly. You may even feel like running away from home.
The first step is to relax in the knowledge that your feelings are perfectly normal. Parents are often conditioned to believe that if their child is crying, something is wrong, something that they should be able to fix. Fortunately, you can take solace in the fact that your child is probably otherwise healthy. Unfortunately for both baby and parents, doctors don't know what causes colic, what the disorder is, or how to cure it. They don't even know if colicky babies are in pain. But they do know that colic does not indicate the presence of a serious medical problem, and a certain amount of crying is normal and healthy. Still, to set your mind at ease, it may be helpful to take your child to the pediatrician to ensure all that wailing and weeping is not a sign of a medical problem. It can also be reassuring to keep in mind that most cases of colic go away by the time the child has reached three months of age.
In this article, we'll address the problem of colic and how to keep your baby as comfortable as possible during the healing process. Keep reading for some home remedies to treat colicky babies.
For more information on caring for your baby, try the following links:
This information is solely for informational purposes. IT IS NOT INTENDED TO PROVIDE MEDICAL ADVICE. Neither the Editors of Consumer Guide (R), Publications International, Ltd., the author nor publisher take responsibility for any possible consequences from any treatment, procedure, exercise, dietary modification, action or application of medication which results from reading or following the information contained in this information. The publication of this information does not constitute the practice of medicine, and this information does not replace the advice of your physician or other health care provider. Before undertaking any course of treatment, the reader must seek the advice of their physician or other health care provider.