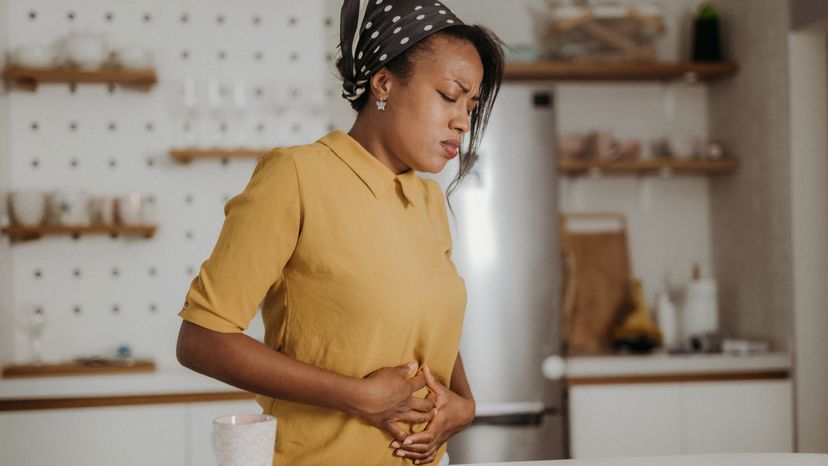 Gas happens. Called flatus, or flatulence, when it finally does escape, it's normal. Its beginnings are in the foods we eat. We eat, therefore we pass gas. Why? Our stomach acids are breaking down last night's pasta primavera into elements that will either be absorbed into the body or eliminated. And that breakdown causes...you guessed it -- gas!
Most intestinal gas comes from swallowed air -- you gobble your food, you gasp in surprise, you sip your drink through a straw -- and most of the remainder is due to bacterial action in the intestines. Regardless of its origins, though, passing gas is a fact of life. Here are some other interesting flatus facts:
Normal flatus production is 6 to 64 ounces each day.

There are 400 different kinds of bacteria living in your colon, waiting to mix and mingle with your food and give you gas.

We pass gas, on average, 14 to 23 times each day.
Who's ProneA few factors make you more prone to passing gas. See if you're on the list:
Anyone who dines regularly on flatulogenic foods (for example, beans, cabbage, onions, prunes, bananas, wine, and dark beer)

Those with certain intestinal ailments, such as lactose intolerance or irritable bowel syndrome

Air-swallowers

Those with gassy relatives (the tendency can be inherited)

Anyone with food allergies that manifest in flatus after certain foods are eaten
For more information about intestinal gas and other digestive ailments, try the following links:
This information is solely for informational purposes. IT IS NOT INTENDED TO PROVIDE MEDICAL ADVICE. Neither the Editors of Consumer Guide (R), Publications International, Ltd., the author nor publisher take responsibility for any possible consequences from any treatment, procedure, exercise, dietary modification, action or application of medication which results from reading or following the information contained in this information. The publication of this information does not constitute the practice of medicine, and this information does not replace the advice of your physician or other health care provider. Before undertaking any course of treatment, the reader must seek the advice of their physician or other health care provider.