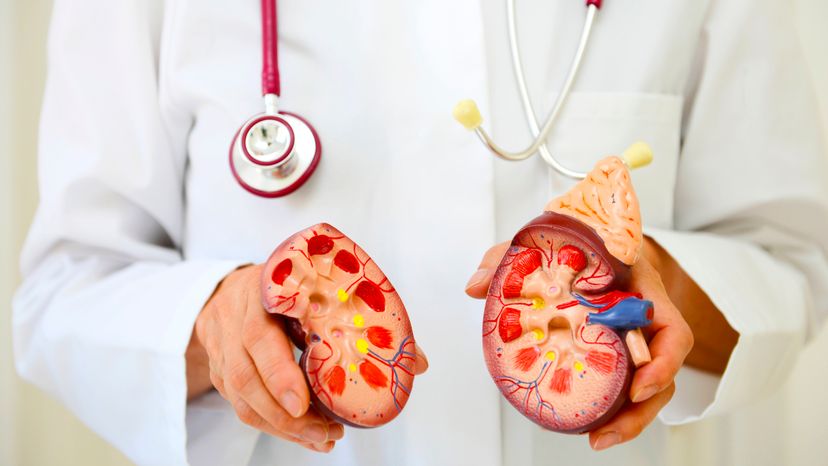 According to an old fairy tale, a single tiny pea placed beneath 20 mattresses and 20 featherbeds was enough to keep the true princess awake throughout the night. In real life, a tiny pea-sized stone, lodged in one or the other of your kidneys, is enough to keep you not only awake all night but crying out in pain and gritting your teeth until you can get to a doctor for relief.
Kidney stones are deposits of mineral or organic substances that form in the kidneys. Approximately 10 percent of people develop kidney stones at some time in their lives. You're most likely to suffer stones if you are male, are 20 to 40 years old, or have gout. Men are four times more likely than women to get kidney stones, the theory being that female hormones prevent kidney stones from forming.
Kidney stones also tend to run in families, so individuals with a close relative who has been through a stone episode should be careful. Most first-time victims are between 30 and 40 years old and are otherwise in very good health.
Like gallstones that go undiagnosed, kidney stones don't always cause problems. Kidney stones may be present for years and never produce symptoms. But when they grow large enough to block the flow of urine through the ureter (one of two tubes that allow urine to drain from the kidneys to the bladder), the pain can be excruciating. Symptoms include severe pain and tenderness over the affected kidney, frequent and painful urination, blood in the urine, nausea, fever, chills, and extreme exhaustion.
Diet may be a major contributor to why some people develop kidney stones. There are also simple lifestyle changes you can make to help keep kidney stones from forming. Read the next section for home remedies that will prevent the pain of kidney stones.
For more information about treating disorders of the kidney and gallbladder, try the following links:
To see all of our home remedies and the conditions they treat, go to our main [ page.

To learn more about how kidneys function, read How Your Kidneys Work.

For practical measure you can take to cope with gallbladder maladies, read
This information is solely for informational purposes. IT IS NOT INTENDED TO PROVIDE MEDICAL ADVICE. Neither the Editors of Consumer Guide (R), Publications International, Ltd., the author nor publisher take responsibility for any possible consequences from any treatment, procedure, exercise, dietary modification, action or application of medication which results from reading or following the information contained in this information. The publication of this information does not constitute the practice of medicine, and this information does not replace the advice of your physician or other health care provider. Before undertaking any course of treatment, the reader must seek the advice of their physician or other health care provider.