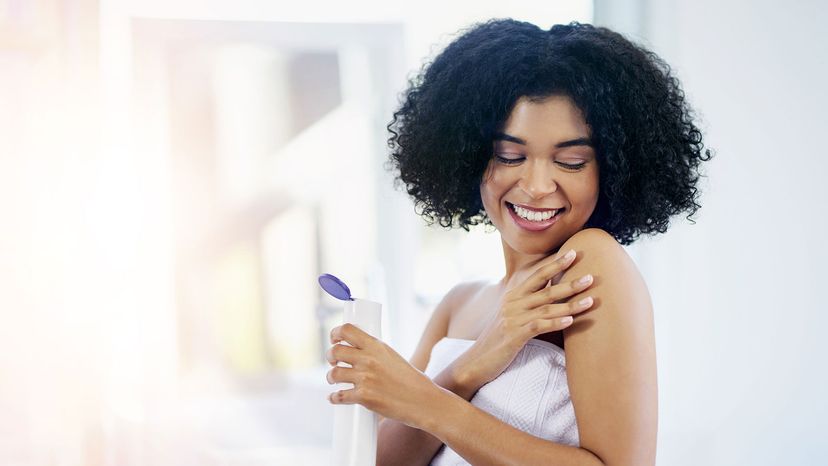 If your skin is prone to dryness and you're lacking some lotion, you might notice some white or chalky flakes on your legs or arms. Next thing, you might be scratching. Yep, that's ashy skin.
"Ashy skin has to do with the dryness of the skin and retention of those skin cells," says dermatologic surgeon Richard L. Torbeck, M.D. with Advanced Dermatology P.C. in an email. "When we don't wash our skin very frequently we can get a retention hyperkeratosis which just means that the skin has not sloughed off yet." This results in the build-up of dead skin cells, which are white in appearance.
Ashy skin is commonly thought to be an issue only for people of African descent. But, it can affect anyone. "All skin types and colors can get ashy skin but it is more pronounced in skin of color due to the difference in pigment in the viable epidermis (alive skin cells) and the dead shedding skin cells," Torbeck explains. In other words, the dead skin cells, which are white in appearance, simply show up more prominently on people with darker skin. However, dermatologist Naissan Wesley, writes in Dermatology News, "Differences in the stratum corneum barrier [outer layer] in skin of color may contribute to the propensity toward ashiness."
It's not just an aesthetic issue. Ashy skin (so-called because the white flakes look like ashes) also makes the skin feel tight, itchy and uncomfortable. This can cause people to scratch, which can result in cracks in the skin where potentially dangerous bacteria can enter. Knees and elbows seem to get the worst of it, but legs, arms and stomach are also prone.
Whether or not you can actually see it, if you're prone to dry skin, you may have ashy skin. So how do you take care of it?