Expecting the impossible -- such as a full recovery from age-related dementia -- only leads us to greater heartache when that outcome doesn't materialize. That's why it's important to set realistic expectations and goals to alleviate caregiver burden. Over time, you'll learn which tasks are more important, and which goals simply won't pan out.
Understanding the condition that requires your presence as a caregiver can better prepare you for the progression of the condition. Caregivers often tend to those who are in the final stages of life. While there may be no hope for recovery, there can be personal satisfaction in aiding another human as he or she prepares to make the transition from life to death. No matter what, it's important to recognize your own personal limits and needs.
Feelings of being overwhelmed, lonely, or angry are common among caregivers, and you shouldn't feel guilty about such thoughts. But neither should you focus too much on them, because that won't ultimately help either. Find a local network or support group for caregivers to see how others are coping with the situation. Knowing that you won't have all the answers by yourself will free you to seek outside assistance and get the answers you need. Taking care of someone is an especially difficult task. Accepting that you'll have many hard days can make all your days a little more manageable.
For more information on care giving and dealing with caregiver burden, see the next page.
Related HowStuffWorks Articles
Sources
Area Agency on Aging of Pasco-Pinellas, Inc. "Preventing Caregiver Burnout." (April 6, 2009) http://www.agingcarefl.org/caregiver/fourStages/stageThree/section01

Biskupic, Joan. "A new page in O'Connors' love story." USAToday. Nov. 13, 2007. http://www.usatoday.com/news/nation/2007-11-12-court_N.htm Cleveland Clinic. "Signs of Caregiver Stress." (April 6, 2009) http://my.clevelandclinic.org/geriatrics/caregivers/signs_of_caregiver_stress.aspx

Family Care Research Program. "Caregiver Burnout." Aug. 25, 2004. http://www.cancercare.msu.edu/patients-caregivers/issues/caregiverburnout.htm

Parks, Susan Mockus, M.D.; Novielli, Karen D., M.D. "A Practical Guide to Caring for Caregivers."American Family Physician. Dec. 15, 2000. http://www.aafp.org/afp/20001215/2613.html

Schmall, Vicki L.; Stielh, Ruth E. "Coping with Caregiving: How to Manage Stress When Caring For Older Relatives." June 2003. http://extension.oregonstate.edu/catalog/pdf/pnw/pnw315.pdf

U.S. Census Bureau. "Projections of the Population by Selected Age Groups and Sex for the United States: 2010 to 2050." 2008. http://www.census.gov/population/www/projections/summarytables.html

WebMD. "Recognizing Caregiver Burnout." (April 6, 2009) http://women.webmd.com/caregiver-recognizing-burnout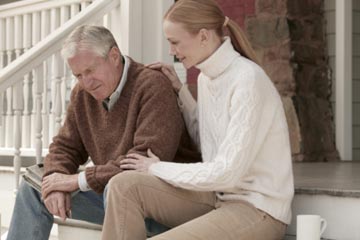 Up Next
What happens when the child becomes the parent? Being a caregiver to your parent can be a hard job. Get tips and information on when a child becomes the parent.
---