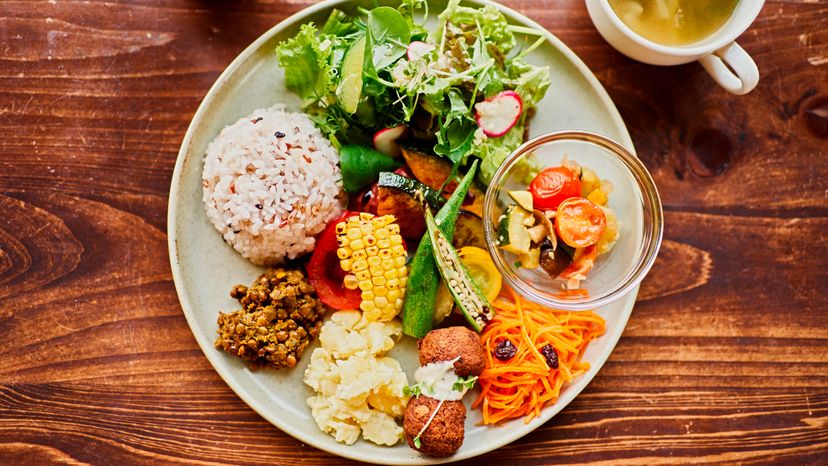 Eating right is the cornerstone to a healthy lifestyle. There are many factors we can't control in regard to health -- hereditary conditions, environmental concerns -- but we can control what we eat, which can help us fight disease, encourage healthy metabolism and more.
In this article, we'll discuss the importance of nutrition, how protein and fat fit into the picture, how to reduce fat and more. You'll learn about vitamin and mineral supplements, special needs diets and how important drinking water is. We'll cover:
The Importance of Water Water is essential to life. Every part of your body relies on it. Your blood, for example, is more than three-quarters water. Other body fluids, like saliva and digestive juices, are based on water. Almost every chemical reaction in the body takes place in a water medium and you couldn't get rid of body wastes without it. Learn how much water you need to drink a day, and why.
The Truth About Carbohydrates Is bread really bad? Many diets eschew carbohydrates in favor or protein, but truth be told, eating carbs -- in moderation -- can be a huge asset to a healthy diet.  Balancing complex carbohydrates with fiber is another essential tool of healthy eating. Don't fear bread and sugar. Learn how much carbohydrates you should be eating, what kinds and more.
The Protein and Fat Connection Eating too much fat is an obvious diet dilemma, but what about eating too much protein? Although it's not as widely known, an excess of protein can also cause health problems. Find out how much protein you need, what types of cholesterol to watch out for and how the negative health effects that can result from eating a high-fat diet.
Breaking Down Vitamins and Minerals Because there are so many, vitamins and minerals can be very confusing topics. But they are often a necessary dietary element. Vitamins and minerals are crucial to normal body functions and some of them may have a role in preventing our most deadly diseases such as cancer and heart disease. Getting enough for normal metabolism used to be our primary concern, but we now know that certain vitamins and minerals may be beneficial in even greater quantities, while others can be dangerous in excess. Get education about which vitamins you need more of and which ones you should slow down on.
The Basics of Supplements Sometimes, everyone's diet needs a little something extra. Although nutritionists like to insist on "food first," that isn't necessarily the end of the story. Supplements, by definition, are there to supplement a diet, not substitute for it. Pills can't provide you with the disease-fighting phytochemicals that are in plant foods. Yet with smart supplementation, you may be able to make a good diet better.
Reading Food Labels Healthy eating guidelines are supposed to help us, but they can be a little daunting. However, planning smart menus and shopping wisely are crucial links in the good nutrition chain. Standardized food labels can provide some guidance, as can a few calorie-cutting menu ideas and cooking techniques. But how do you know what to look for? By reading food labels and looking for key items.
Ways to Restrict Fat Cutting back on fat, especially saturated and trans fat, is one of the most important changes you can make in your diet if you want to prevent chronic diseases like heart disease and cancer. But how do you reduce fat when it seems to be everywhere? Start slowly. Count your fat grams. And use these tips.
The Basics of Special Needs Diets If your doctor has placed you on a special diet, don't feel singled out. If you are following a diet prescribed for heart disease, high blood pressure, or diabetes, in particular, you may need to pay more attention to planning your meals, but there is some basic advice it makes sense to follow. Learn about how to reduce or eliminate things such as cholesterol, sodium and more.  //]]]]> ]]>
This information is solely for informational purposes. IT IS NOT INTENDED TO PROVIDE MEDICAL ADVICE. Neither the Editors of Consumer Guide (R), Publications International, Ltd., the author nor publisher take responsibility for any possible consequences from any treatment, procedure, exercise, dietary modification, action or application of medication which results from reading or following the information contained in this information. The publication of this information does not constitute the practice of medicine, and this information does not replace the advice of your physician or other health care provider. Before undertaking any course of treatment, the reader must seek the advice of their physician or other health care provider.