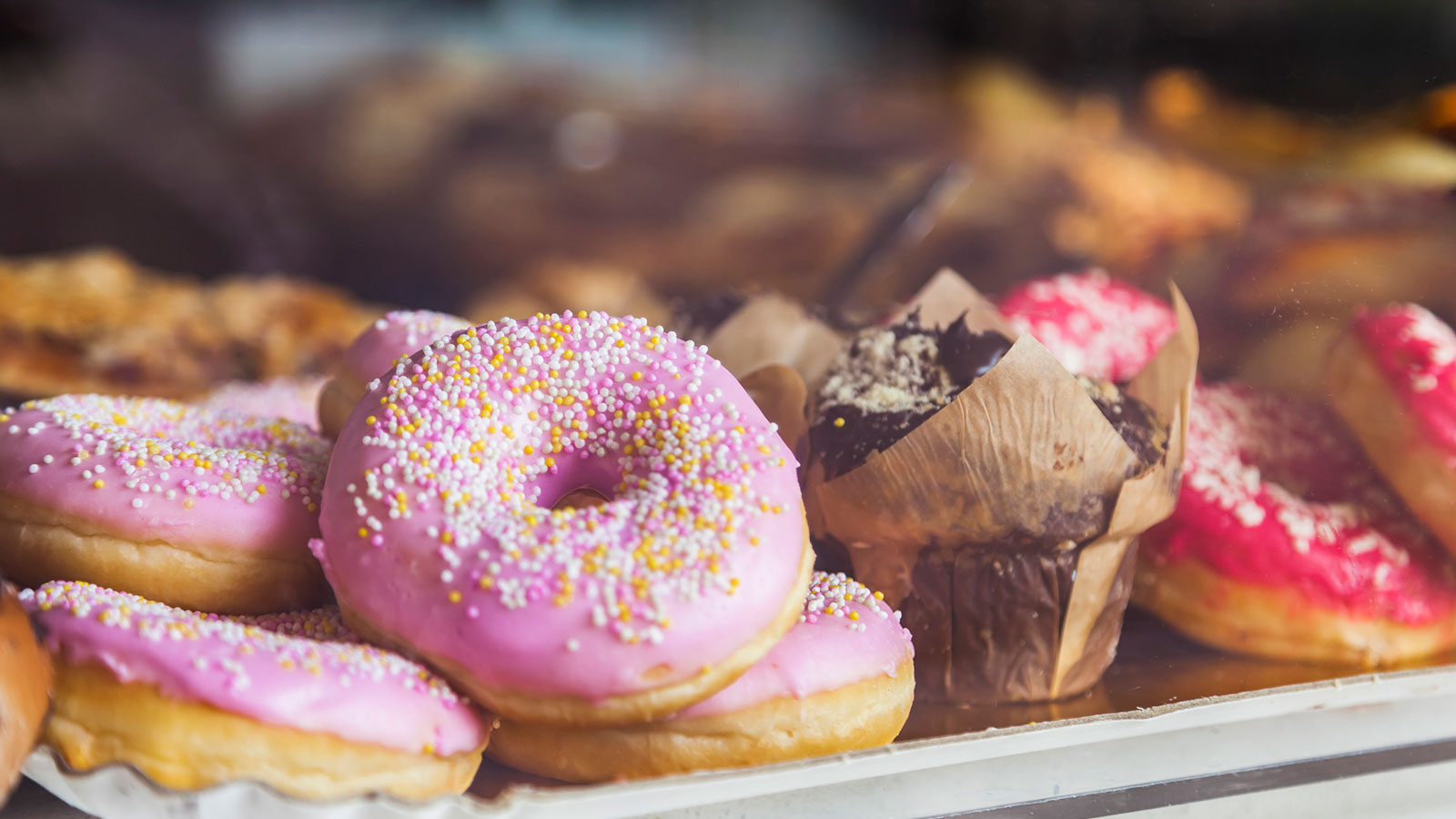 Up Next
We examine the nutritional profiles of bagels, doughnuts and muffins to find out which one is best and worst for you and how to make them healthier.
---
Author's Note: 10 Myths About Sugar
It's too bad there's so much confusion out there about sugar. My personal feeling? Everything in moderation.
Related Articles
Sources
Ahmed, S.H., K. Guillem and Y. Vandaele. "Sugar addiction: pushing the drug-sugar analogy to the limit." National Institutes of Health. July 2013. (Jan. 23, 2015) http://www.ncbi.nlm.nih.gov/pubmed/23719144

Alpha Galileo. "The brain cannot be fooled by artificial sweeteners - leading to a higher likelihood of sugar consumption later." Sept. 20, 2013. (Jan. 23, 2015) http://www.alphagalileo.org/ViewItem.aspx?ItemId=134681&CultureCode=en

Butler, Kiera. "Sorry, Raw Sugar Is No Better for You Than Refined." Mother Jones. Sept. 8, 2014. (Jan. 22, 2015) http://www.motherjones.com/environment/2014/09/is-raw-sugar-healthier-than-refined

Cooking Light. "10 Nutrition Myths." (Jan. 17, 2015) http://www.cookinglight.com/eating-smart/nutrition-101/nutrition-myths-facts/nutrition-myths-added-sugar

Digitale, Erin. "Debunking a Halloween myth: Sugar and hyperactivity." Scope. Stanford Medicine. Oct. 31, 2012 (Jan. 27, 2015). http://scopeblog.stanford.edu/2012/10/31/debunking-a-halloween-myth-sugar-and-hyperactivity/#sthash.1mbvSiu7.dpuf

Gupta, Dr. Sanjay. "Myths and Facts About Sugar Substitutes." Dec. 17, 2013. (Jan. 16, 2015) http://www.everydayhealth.com/sanjay-gupta/myths-and-facts-about-sugar-substitutes.aspx

Harvard School of Public Health. "Soft Drinks and Disease." (Jan. 28, 2015) http://www.hsph.harvard.edu/nutritionsource/healthy-drinks/soft-drinks-and-disease/

Health24. "Sugar myths and facts." June 9, 2011. (Jan. 17, 2015) http://www.health24.com/Diet-and-nutrition/Nutrition-basics/Sugar-myths-and-facts-20130210

Hoover, D.W. and R. Milich. "Effects of sugar ingestion expectancies on mother-child interactions." U.S. National Library of Medicine. Aug. 22, 1994. (Jan. 21, 2015) http://www.ncbi.nlm.nih.gov/pubmed/7963081

Joslin Diabetes Center. "Can I Eat as Many Sugar-Free Foods as I Want?" (Jan. 23, 2015) http://www.joslin.org/info/can_i_eat_as_many_sugar_free_foods_as_i_want.html

Kids Health. "Questions & Answers." April 2013. (Jan. 21, 2015) http://kidshealth.org/parent/question/infants/gestational_diabetes.html

Larkin, Ryan. "Scientists Have Debunked These 5 Myths About Sugar." Business Insider. Dec. 230, 2014. (Jan. 17, 2015) http://www.businessinsider.com/scientists-debunk-5-sugar-myths-additives-substitutes-2014-12

Lustig, Robert. "What You Need to Know About Sugar." Time. Dec. 27, 2012. (Jan. 16, 2015) http://ideas.time.com/2012/12/27/what-you-need-to-know-about-sugar/

McDougall, Dr. John. "Sugar, Coated with Myths." The McDougall Newsletter. September 2006. (Jan. 17, 2015) https://www.drmcdougall.com/misc/2006nl/sept/sugar.htmhttps://www.drmcdougall.com/misc/2006nl/sept/sugar.htm

Palermo, Elizabeth. "Does Sugar Really Cause Cavities?" Live Science. March 13, 2014. (Jan. 21, 2015) http://www.livescience.com/44081-does-sugar-cause-cavities-plaque.html

Portman, Dr. Robert. "Sugar: It's The Best (Fuel)!" Pacific Health Labs. (Jan. 23, 2015) http://www.pacifichealthlabs.com/blog/sugar-its-the-best-fuel/

Self Nutrition Data. "Sugars, granulated [sucrose]." (Jan. 23, 2015) http://nutritiondata.self.com/facts/sweets/5592/2

The New York Times. "Weight Control In-Depth Report." (Jan. 21, 2015) http://www.nytimes.com/health/guides/specialtopic/weight-management/print.html

Trant, Katie. "7 sugar myths debunked." Oh my veggies. Oct. 19, 2014. (Jan. 17, 2015) http://ohmyveggies.com/healthy-or-hype-7-sugar-myths-debunked/

U.S. Food and Drug Administration. "Proposed Changes to the Nutrition Facts Label." Aug. 1, 2014. (Jan. 23, 2015) http://www.fda.gov/Food/GuidanceRegulation/GuidanceDocumentsRegulatoryInformation/LabelingNutrition/ucm385663.htm

Web MD. "10 Diabetes Diet Myths." (Jan. 16, 2015) http://www.webmd.com/diabetes/10-diabetes-diet-myths

Wolraich, Mark, David Wilson and J. Wade White. "The Effect of Sugar on Behavior or Cognition in Children. A Meta-analysis." The Journal of the American Medical Association. Nov. 22, 1995. (Jan. 21, 2015) http://jama.jamanetwork.com/article.aspx?articleid=391812

World Health Organization. "WHO opens public consultation on draft sugars guideline." March 5, 2014. (Jan. 23, 2015) http://www.who.int/mediacentre/news/notes/2014/consultation-sugar-guideline/en/