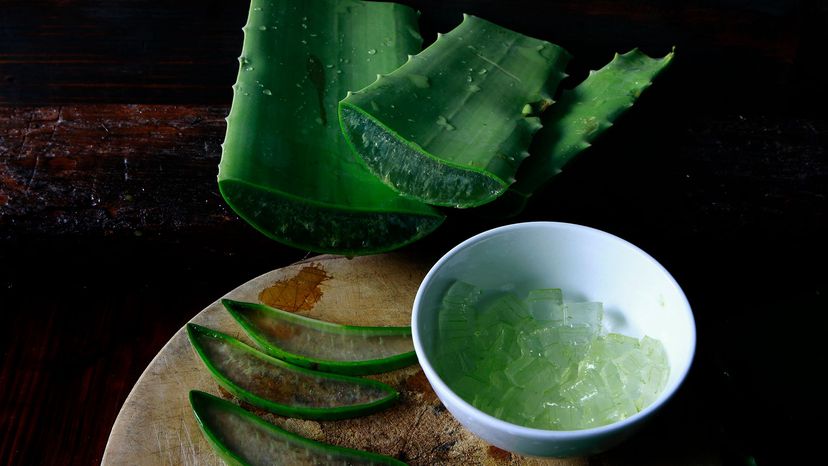 Affectionately dubbed the "plant of immortality" by the Egyptians more than 6,000 years ago, the aloe vera plant remains every bit as relevant today as it was in ancient times. The spiky, green gem has a rich history of use in various cultures who employed the plant's moist middle for a wide variety of medicinal and cosmetic uses. Cleopatra applied the gel to her body as part of her beauty regimen, and Alexander the Great and Christopher Columbus used it to treat soldiers' wounds.
Their enthusiasm isn't hard to understand. Aloe vera is widely regarded as a medicinal superstar, producing at least six natural antiseptics with the power to kill mold, bacteria, fungi and viruses. It also has anti-inflammatory properties, protects against sun damage, heals wounds and even works as a powerful laxative.
To use it, cut off the spiky top and sides as well as the white part of the leaf at the bottom. Then split the leaves lengthwise down the middle to release the gel inside. Wash the gel to get rid of dirt and the yellow latex you may see clinging to it. You can also buy aloe vera gel commercially — just make sure the one you purchase is pure and not mixed with other ingredients.
For some purposes, you may have to drink the juice instead. If you decide to take it orally, seek out commercial, certified organic juice. Remember, you only need a few sips of pure aloe vera juice to get the medical benefits. Too much can give you diarrhea. And as for both topical and oral applications, it's always recommended to consult your doctor beforehand.
From all-around health elixirs to simple beauty aids, here are 40 ways to put your little plant to maximal use.