The amount of protein you eat determines your dietary requirement for this vitamin, because it functions in protein metabolism. The RDA for pyridoxine is 1.3 micrograms for both men and women, increasing to 1.7 mcg for those over 50 years of age. Pregnant and nursing women require more. Children younger than ten years of age require slightly less.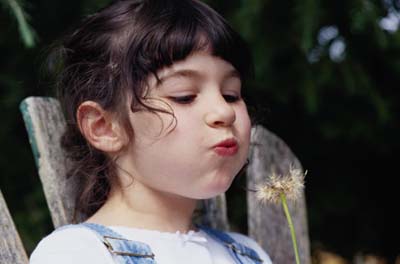 ©2007 Publications International, Ltd.
Children need less vitamin B6 than adults, but most people just don't get enough.

Even with the large amount of protein Americans eat, the RDAs for pyridoxine are sufficient for most people. The problem is that many people are not even meeting the RDA.
The 1980 Nationwide Food Consumption Survey showed that pyridoxine intake was below 70 percent of the RDA in half of the people surveyed. A 1990 survey showed that intake of the vitamin was still inadequate for most men and women. Other studies show reduced blood levels of pyridoxine in some pregnant women, elderly adults, alcohol abusers, and people with disorders such as kidney disease and Down syndrome.
Some prescription medications, including birth control pills, steroids, and the antibiotics isoniazid and penicillamine, can increase the need for pyridoxine. If you take one of these medicines, ask your health care practitioner about taking a pyridoxine supplement.

If you don't get enough vitamin B6, there are supplements out there -- just be carefult not to overdo it. The next page will tell you what happens if you take too much.


Vitamin B6 is just one of the many vitamins that are part of a healthy diet. Check out the following links to learn more:

Vitamin A plays an essential role in eyesight. Learn how it helps us to see, even in the dark, at

How Vitamin A Works

.

Vitamin K plays a vital role in blood clotting. Learn more at

How Vitamin K Works

.

Folate is necessary for healthy growth, because it makes DNA and RNA. Learn how it manufactures cells at

How Folate Works

.

Vitamin B12, which helps folate make cells, works differently than any other vitamin. Learn the details at

How Vitamin B12 Works.


Vitamin B1, or thiamin, is one of the essentil vitamins added back to "enriched" foods. Learn about it at

How Vitamin B1 Works

.

To learn about the many vitamins in our diet, how much you should be eating, and where to find them, go to our general

Vitamins

page.

If you were looking for the best prices on B vitamin supplements, click

here

.
This information is solely for informational purposes. IT IS NOT INTENDED TO PROVIDE MEDICAL ADVICE. Neither the Editors of Consumer Guide (R), Publications International, Ltd., the author nor publisher take responsibility for any possible consequences from any treatment, procedure, exercise, dietary modification, action or application of medication which results from reading or following the information contained in this information. The publication of this information does not constitute the practice of medicine, and this information does not replace the advice of your physician or other health care provider. Before undertaking any course of treatment, the reader must seek the advice of their physician or other health care provider.